The importance of UI / UX design in travel mobile apps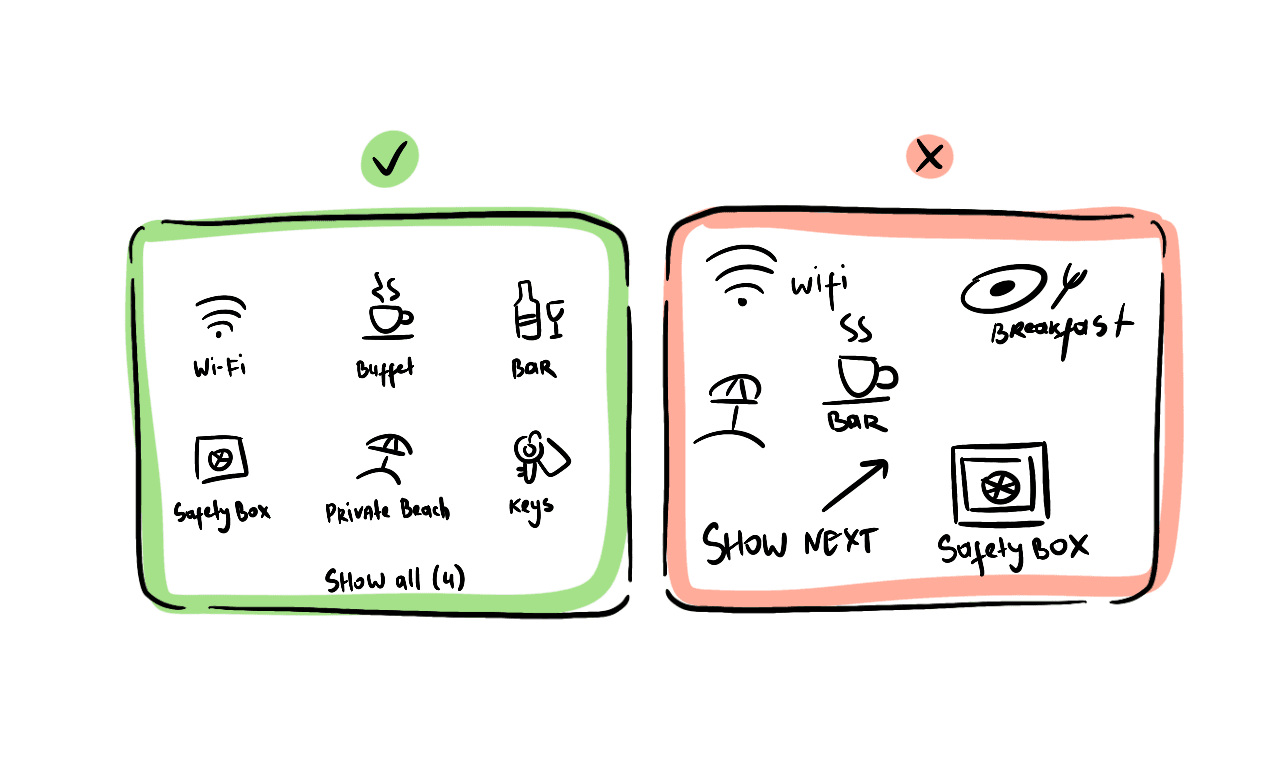 How can a travel app stand out from the competition, what makes for a good app experience, and how important is user-friendly design? Let's talk about UI / UX design and development for travel apps.
First of all, UI / UX design refers to the user interface (UI) and user experience (UX) of a product or service — in our case, a mobile application.
UI design focuses on the visual aspects of the app, such as the layout, colors, icons and fonts.
UX design focuses on the functionality and usability of the app, such as the navigation, interaction and feedback.
Both UI and UX design are crucial for creating a successful travel mobile app that meets the needs and expectations of users. In this article, we will explore the travel app UI / UX importance and how good design can enhance user satisfaction and loyalty.
Why is UI / UX design important for travel mobile apps?
The importance of UI design in mobile travel apps is simple to explain: the better something looks, the more attention it gets.
A great panoramic-view photo in the right place on someone's screen might interest them in booking a tour. An inviting color palette on an app makes it easier on the eye and more comfortable to stare at for longer while researching travel information. These are just some examples of the impact of travel app UI.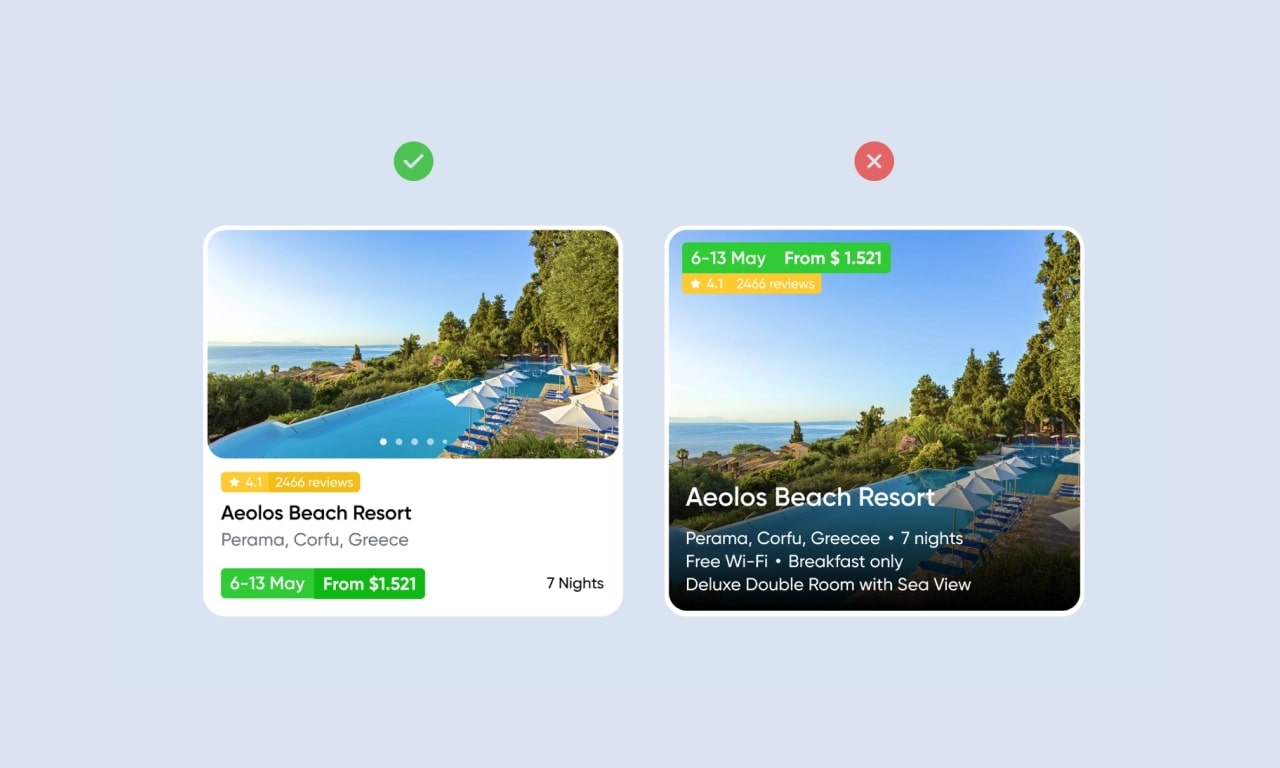 We measured the impact of each of these cards. The first option increased the number of bookings by 24%!
The importance of travel app UX comes from the emotional response a traveler gets from using the app. Good UX design should anticipate the user's needs, preferences and goals, and provide them with relevant and personalized options. It should also minimize the user's frustration, confusion and stress, and help them overcome any challenges or problems they might encounter along the way.
But let's get deeper. What exactly does good UI / UX mean for your travel business? Read on and see how you'll get so much extra value for designing a travel mobile application in accordance with modern best practices.
User retention
User retention is a key metric that measures how many travelers continue to use your app over time. It is closely related to user satisfaction, loyalty, and engagement. Well-designed UI and UX modules can improve user retention by providing a seamless, intuitive, and enjoyable experience for travelers. A travel app that is easy to navigate and can guide users through difficult processes smoothly will more likely have a high user retention rate.
Conversely, a poorly designed UI / UX can frustrate users and drive them away. For example, a travel app that has slow loading times, confusing navigation, and irrelevant content will discourage anyone from using it again. Even if your app provides great functionality, users probably won't care about it if it is poorly designed, so the app's overall success really depends on UI / UX.
User engagement
Another important goal of a travel app is to engage users and encourage them to interact with the app frequently and for as long as possible. After all, more engagement means more loyalty and more profit.
User engagement is influenced by how much value the app delivers to the user and how enjoyable the app is to use.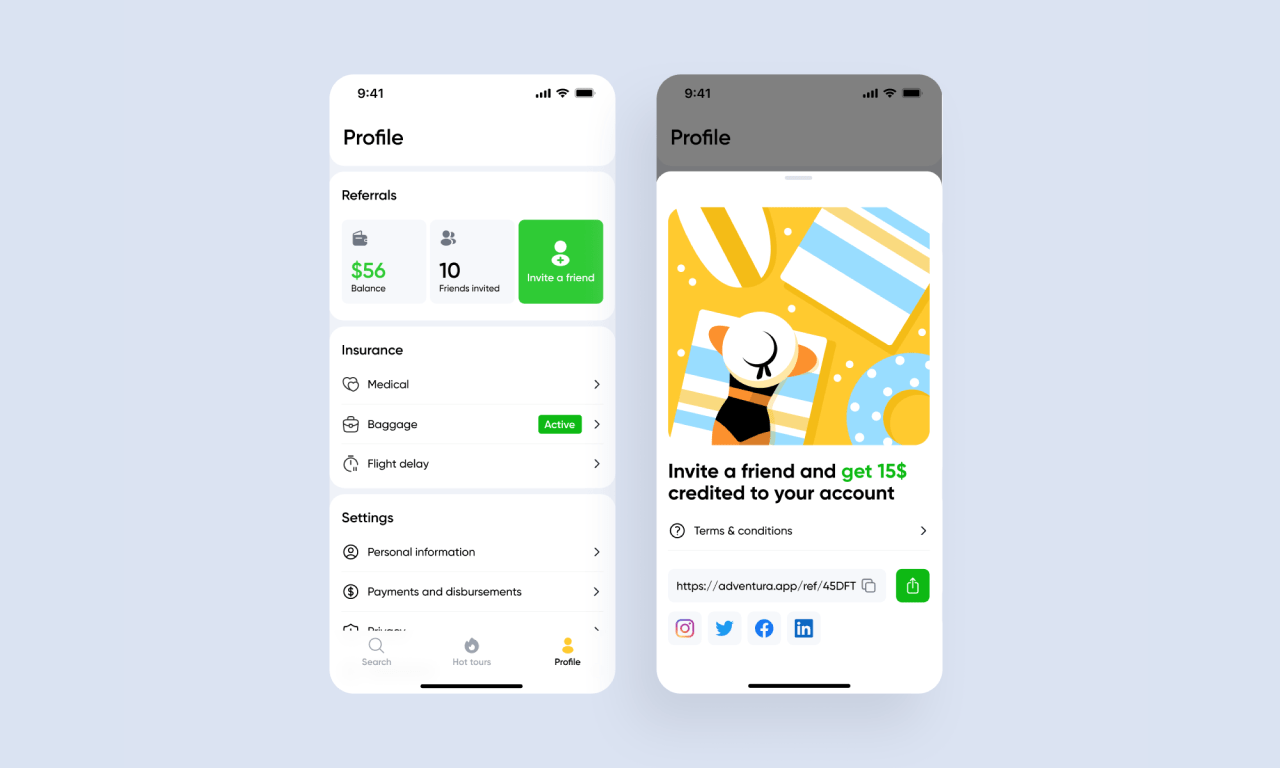 An example of the app we designed for our client
This is where UI / UX design comes in, to ensure that the whole user journey feels great. UI and UX work focuses on creating a personalized and interactive experience — for example, by allowing the user to customize their preferences, settings and profile, provide feedback and earn rewards, and enjoy gamified elements and challenges. A good travel app could perhaps inform users about their destination while softly promoting extra activities (like cooking classes with local people) that users can pay for beforehand.
Simplicity of use
One of the main reasons why users choose to use a mobile app instead of a website or a desktop application is convenience. Users want to access the information and services they need quickly and easily, without having to deal with complex or cumbersome processes.
Good UI / UX design can ensure that an app is easy to use and navigate by deploying simple and familiar icons, buttons and gestures, minimizing the number of taps and scrolls required, optimizing the screen space and layout for different devices and screen sizes, and providing clear and concise instructions and labels.
Looking for design tips for your travel app?
We follow the best practices and design principles for high-quality apps. Our expert team specialize in the travel sector, with vast expertise that we're ready to share. Book a call with us and we'll guide you through.
Trust and confidence of users
Traveling involves a lot of decision making and risk taking. Users need to trust that the app they are using is reliable and secure. They also need to feel confident that they are making the best choices for their travel plans and that they are getting the best deals and offers available.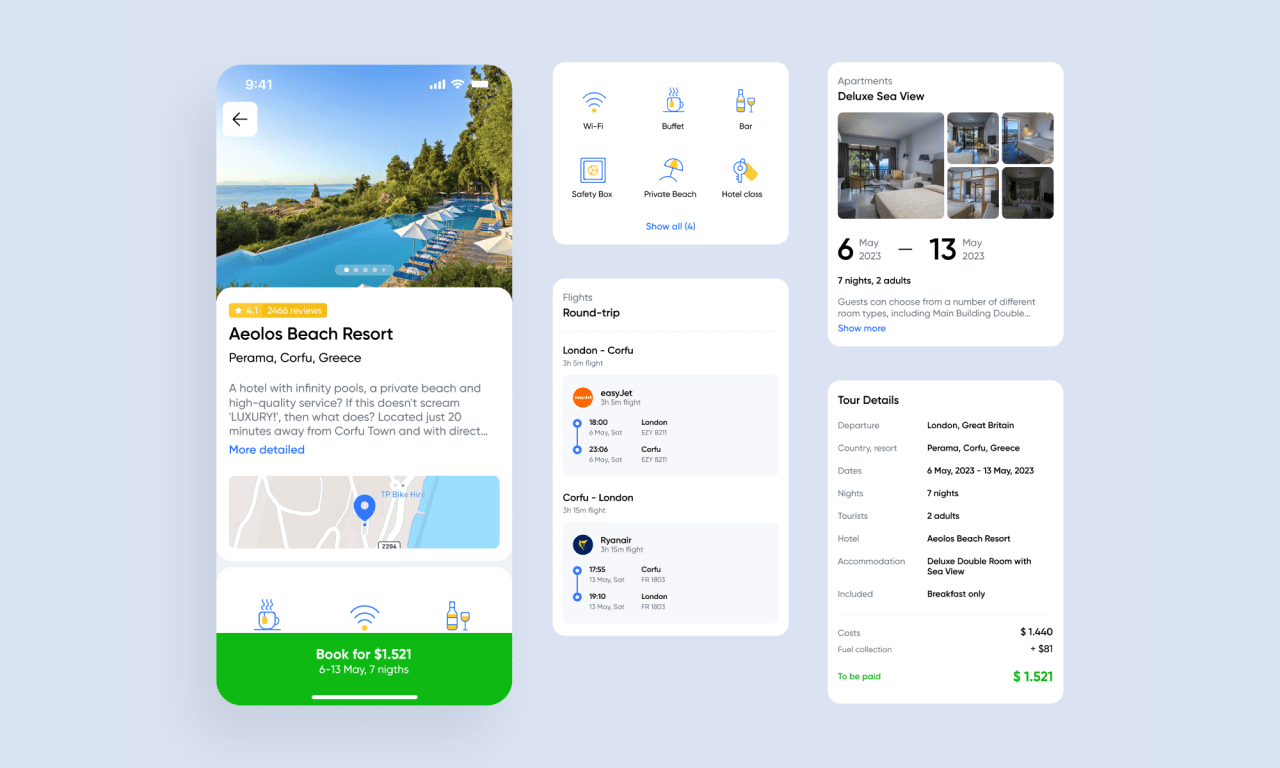 An example of the app we designed for our client
Good UI / UX design can build trust and confidence from users by displaying credible information at relevant steps of the user journey (reviews, rating, etc.), providing transparent and accurate pricing and terms and conditions, and offering customer support and assistance options.
You don't need to be a UX designer to see how a well-designed app can build trust by itself — the better it looks and feels, the more confident the customer will be in the overall quality of the travel agency's services.
Interaction with your travel agency's products
Finally, good UI / UX design can elevate any travel mobile app from not only a tool for providing information and services to travelers, but an important channel for promoting your company's products. It can increase the exposure and awareness of your company's brand, values, mission and vision, as well as showcase your portfolio of destinations, packages and activities.
Through attractive visuals, clear calls-to-action, suggested content or complementary products, and loyalty programs and referral schemes, good UI / UX design can facilitate the interaction between your customers and your company's products — rewarding repeat customers, up-selling and cross-selling opportunities, and guiding users towards booking or purchasing.
Wrapping up
The importance of UI design in travel mobile app development cannot be overestimated, and the same applies to the UX design impact on mobile travel application growth.
Good UI / UX design can improve the accessibility and navigation of an app, which can influence user retention and engagement, and build customers' trust and confidence in your business and products. A well-designed travel app can provide a seamless and enjoyable experience for users, while a poorly designed one can frustrate and discourage them.
FAQs
What is UI / UX and why is it important for tourism mobile app development?
UI stands for user interface, which involves all the visual and interactive elements of an app. UX stands for user experience, which is the overall feeling and satisfaction that a user gets from using an app. UI / UX design impact on a mobile travel app cannot be overestimated, since these aspects affect not only the feelings your app evokes from users, but also whether travelers will even want to use it at all.
How can UI / UX impact the growth rate of a travel mobile app?
UI / UX can impact the growth rate of a travel mobile app by increasing user retention, engagement, and loyalty. With a well-designed app that meets the users' needs and expectations, customers are more likely to use it frequently, spend more time on it, and recommend it to others. A poorly designed app that frustrates or confuses the user will result in uninstallation, negative reviews, and lost revenue.
What is user-centered design and why is it important for travel mobile apps?
User-centered design is an approach that focuses on understanding the needs, preferences and goals of the users, and designing the app accordingly. User-centered design ensures that the app provides a positive user experience, which is crucial for retaining and satisfying customers in the competitive travel industry. It also helps to create a user interface that is intuitive, attractive and easy to use, which can enhance the app's usability.
Sign up for insights, ideas, and inspirations
Like what you are reading?
You can receive our content directly to your email.
Zoftify Eesti OÜ
14804535
VAT: EE102329906
Estonia (HQ)
Lõõtsa tn 5-11
11415 Tallinn, Estonia
Latvia
Roberta Hirša iela 1
LV-1045, Riga, Latvia