10 features every travel agency app must have in 2023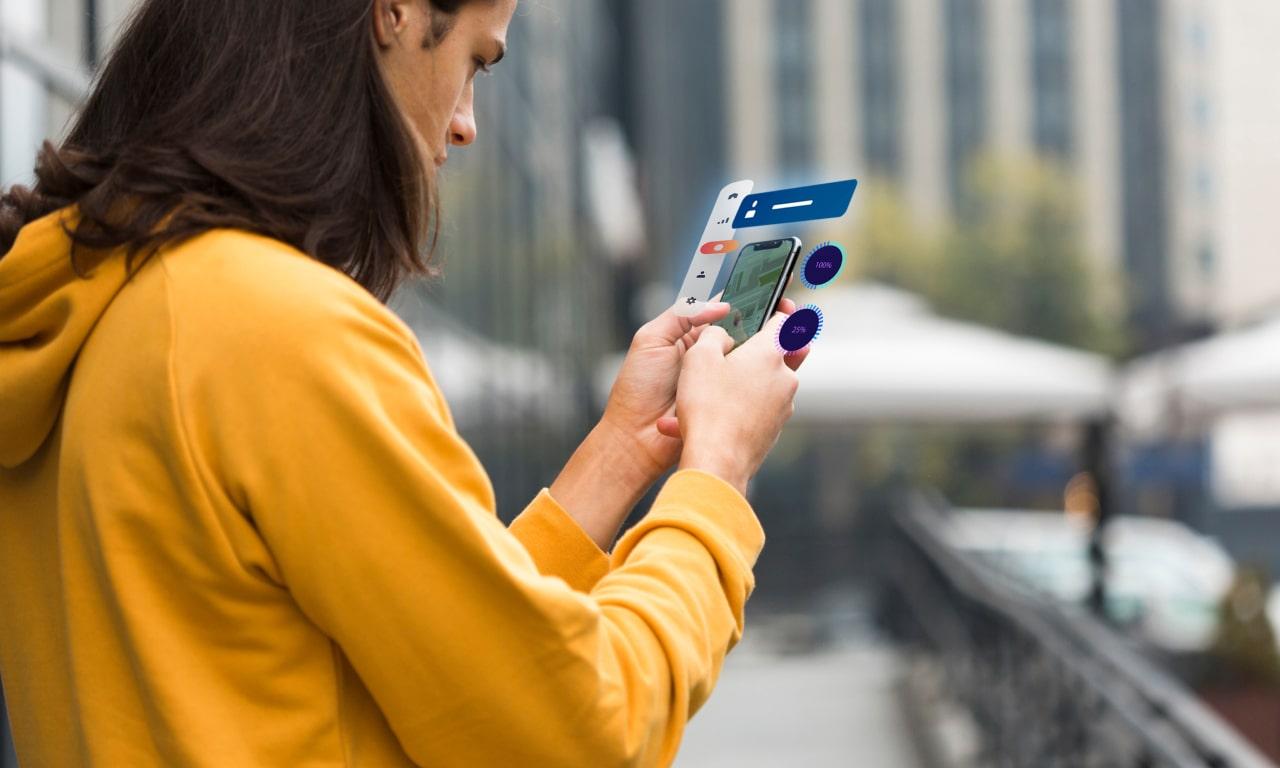 Modern travelers rely on apps throughout all the stages of their trip. They use them to book flights and apartments, check weather, learn about destinations, prices, and so much more. If a travel agency manages to combine all of these important functions under the roof of a single app, it's more likely that customers will stay loyal and continue to use it time and time again, since it will be a convenient and extremely useful tool to keep in their back pockets.
To get your app just right, there are some special features of the tourism application development process that you won't want to overlook. If you're ready to create the perfect app, you've come to the right place — let's get into the list.
10 features all travel apps should contain
Advanced search
Nowadays travelers want maximum control and flexibility over their trips, and that means giving them the tools to find the best deals and offers to suit their budgets and preferences.
So, a modern travel app needs a powerful and flexible search and filter function. Providing your clients with an easy-to-use search that allows them to find exactly what they're looking for first time is invaluable for overall customer satisfaction and loyalty. An advanced search should allow customers to input multiple pieces of information for the most refined results list (the more the better): destination, date, budget, accommodation type, activity type, and so on. Customers should also be able to filter results according to their preferences, such as price, rating, location or availability.
An advanced search makes looking for specific tours or services much less of a hassle and speeds everything up. The less time it takes for a client to do the boring stuff, the happier they are with your services, and the quicker they book with you. At this point, an advanced search isn't just a 'nice to have' — it's a necessity, since most major travel companies offer this feature.
Booking system
Another one of the travel mobile app features that is essential nowadays is the ability to book travel services and products directly from the app. Travelers require one seamless and convenient booking process that does not force them to switch between different apps or websites. They also want a booking system that allows for modification or cancellation of their bookings with ease. Finally, the system should be secure and reliable and protect their personal and financial information.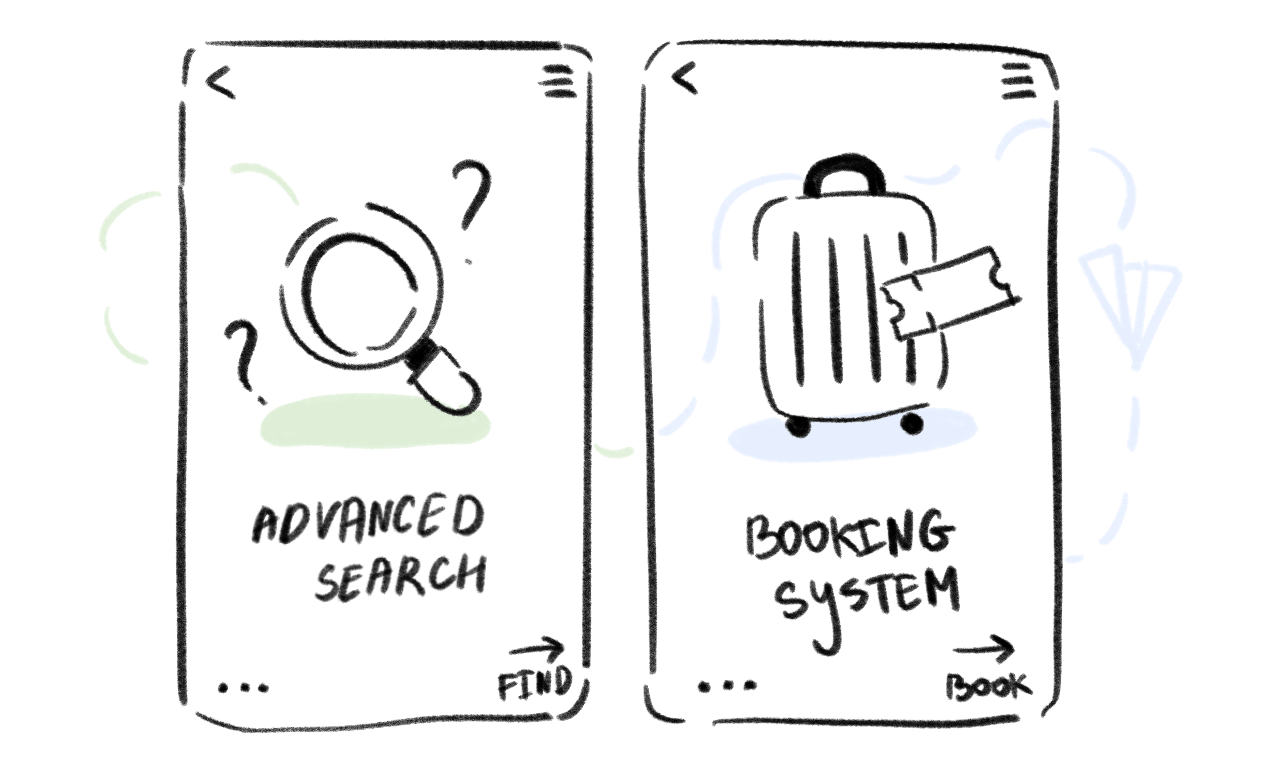 Booking systems are one of the most important travel and tourism industry mobile app features for good reason — it simplifies and streamlines the booking process for customers and ensures they stick to using your app. It also builds trust, since being able to guide a customer through a secure process quickly and easily will help them view your company as a professional and trustworthy service provider.
Ready to implement these priority features of a travel app?
That's what we specialize in. Book a call with us and see how we can bring your app to life.
Payment gateway
One of the most crucial features of a tourism app is a secure and convenient payment gateway. Both aspects are extremely important.
First of all, a secure gateway should leave customers absolutely no doubt about sending their money and personal information to you — after all, this is extremely sensitive data, and it's a travel agency's duty to guarantee that everything is completely safe and private.
Secondly, a good payment gateway is convenient: providing a comfortable way to pay in-app saves customers time. Make sure to offer multiple payment options (once again, the more the better), especially the most popular ones like credit cards, debit cards, Apple Pay, and Google Pay. Even better, allow your customers to save their payment information so they don't have to enter it each time they book.
Finally, if you can include some sort of currency converter, you will make paying through your app that little bit more enjoyable — the general rule is to ensure customers don't close your app to complete other tasks. Give them everything they need to pay in one place.
Travel itinerary
One of our favorite must-have tourism app features is a travel itinerary that helps customers organize and manage their trips. Travelers want to have a clear and comprehensive overview of their trip and access to all the small details: their flight schedules, hotel reservations, car rental bookings, tour and activity bookings, and so on. Keeping it all in one place — inside your app — is convenient and makes it more likely that customers will keep your app on their smartphone for the duration of the trip and beyond, for their next travels.
A good travel itinerary feature should also provide reminders or notifications of any changes or updates to trip details, such as flight delays, cancellations, or gate changes. Ideally, it should allow travelers to sync their trip details with their calendar or other apps, such as Google Maps, TripAdvisor or Yelp.
Offline access
Offline access allows travelers to see their travel itinerary, access booking details, use maps, and contact customer support without internet connection. When it comes to travel application features, offline access is certainly among the most valuable.
Depending on the travel destination, network conditions may vary significantly, so don't let your customers lose access to important information. Ensuring that everything a traveler needs is stored securely inside their phone will make your app invaluable — and give customers good reason to stick with it.
Customers will also value not having to pay for expensive mobile data just to access their booking information.
Personalized experience
Personalization can factor into a number of features of a tourism application, and enhance travelers' satisfaction and loyalty.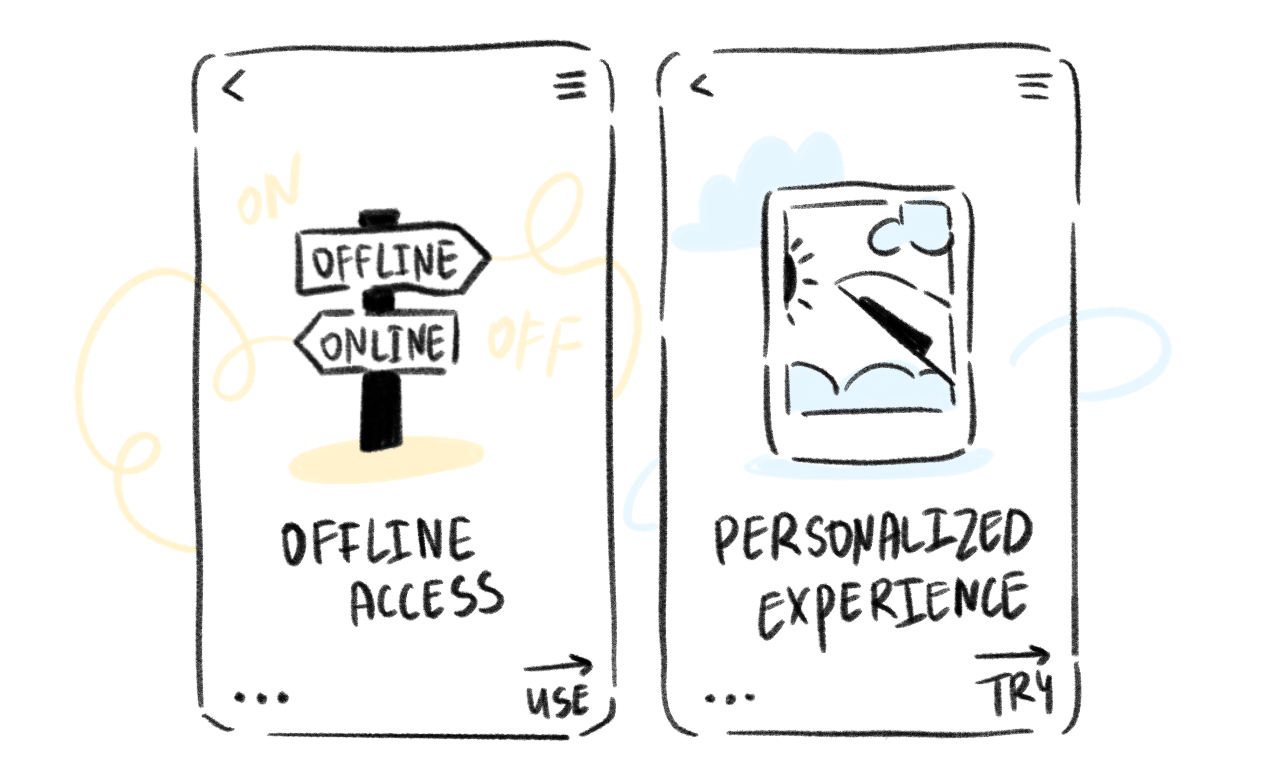 Modern travelers are accustomed to travel apps that understand their needs and preferences, and can provide them with relevant and tailored recommendations. They also expect travel apps to adapt to their behavior and feedback, and learn from their past trips.
Creating a personalized experience with your app is a must. Customers should be able to customize their profile and preferences, such as their budget, interests and travel style to receive relevant suggestions. Personalization correlates directly with customer satisfaction and loyalty — the more adaptive and helpful an app is, the more likely a customer is to be happy with it and continue using it.
Customer support
Speaking of customer satisfaction, customer support is one of the most essential travel app features.
Travelers may encounter various problems during their trips: booking errors, flight delays, lost luggage — the list goes on. They may also have questions about visa requirements, travel insurance, cancellation policies, or app functions. The customer should always feel safe and comfortable, and there is nothing more irritating than encountering a problem and not getting a satisfactory response from the service provider.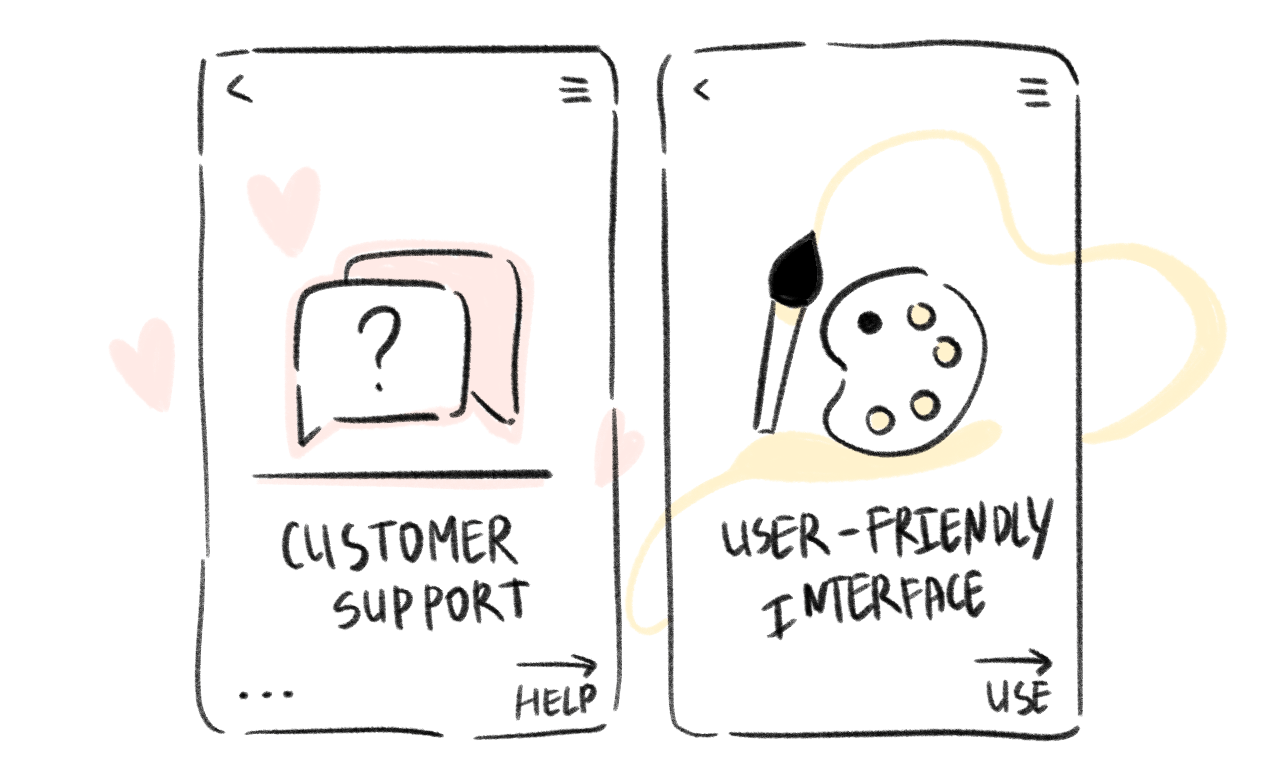 That is why any travel agency app should have a customer support feature that allows travelers to get in touch via various channels, like a phonecall or chat bot. The feature should also allow travelers to access an FAQ section or knowledge hub containing the most common questions or issues and their solutions.
User-friendly interface
A user-friendly interface is vital for any mobile app. A well-made app is extremely intuitive and easy to navigate, so that even a non-tech-savvy person can navigate through it with ease. This is especially important for travel apps; since the customer base for a travel agency is likely to be diverse, an app should be inclusive and accessible. That means it should have intuitive controls, clear menus, and simple, straightforward steps for every action.
You could could also add a voice search or dark mode to increase customers' comfort.
From a business perspective, the more inclusive an app is, the wider audience it can attract.
Reviews and ratings
In a world filled with insidiously covert ads, customers prefer to rely on reviews and ratings made by other customers when making their own choices. A rating and review system is one of the main features of a tourism app in helping users make informed and confident decisions.
An app can use a separate system, or simply integrate reviews from popular websites like TripAdvisor. Either way, if you want to build trust with your clients, implementing this as one of the key features of the travel app you develop is a good place to start.
The feature also helps travel businesses by giving them feedback on services and service providers, so that they know what can be improved or changed if necessary. This sort of feedback can be invaluable, which is why many companies invest in travel app review tools and motivate their customers to write reviews by providing discounts and bonuses in exchange.
Real-time updates
Trips aren't set in stone, and circumstances can change at the last minute. A good travel app should be able to adjust to unexpected circumstances and provide travelers with relevant information at any given time. That includes real-time updates on flight statuses, weather conditions, travel alerts, and so on. But that isn't enough in itself — an app should also ensure that a traveler is aware of any changes by notifying them properly.
Real-time updates are one of the most essential travel app features, since they give customers reason to use your travel app at all times and see it as a reliable and convenient tool — in turn they will trust it (and your travel agency itself).
Takeaways
Apps are a necessity for travelers nowadays — they require them for all the stages of a trip. But you can't just create a basic app — you need to create an excellent one that leaves your customers feeling satisfied, informed, cared for and comfortable. We've explored the most important features of a travel mobile app to help your app stand out among the rest: personalization, booking systems, real-time updates, advanced search, offline access, and more.
While it might sound like a lot, in practice a lot of these features are widely used — probably so well integrated that you don't even realize you're using them — and are now a modern standard. And remember, implementing these features won't just benefit your customers, it'll also benefit your business by increasing customer loyalty and generating insightful data and feedback.
FAQs
What features should a travel app have?
An advanced search, a booking system, a payment gateway, a travel itinerary, personalization, a user-friendly interface, offline access, customer support, real-time updates, and a review system are among the most important travel mobile application elements. Make travel app development features like these your top priority.
Why are these features important for a travel app?
Any travel app's purpose is to make a client's trip as easy, comfortable, and convenient as possible. There are multiple features of a tourism application that can provide that sort of experience for a customer. Payment gateways make paying faster and easier, real-time updates ensure a customer won't miss anything important, customer support helps with solving issues at any stage of the trip — the list goes on! Ultimately, these features improve customer satisfaction and loyalty.
How can travel agencies benefit from including these tourism app features?
Travel agencies can benefit from feedback their customers give within review systems, and from increased customer loyalty they get from providing quick and convenient tools travelers require during their trips. Any new feature in your travel app might add that extra bit of comfort that ensures a customer won't want to use a competitor's services.
Sign up for insights, ideas, and inspirations
Like what you are reading?
You can receive our content directly to your email.
Zoftify Eesti OÜ
14804535
VAT: EE102329906
Estonia (HQ)
Lõõtsa tn 5-11
11415 Tallinn, Estonia
Latvia
Roberta Hirša iela 1
LV-1045, Riga, Latvia