4 reasons to outsource mobile application development
Alexander Ragin
January 13, 2023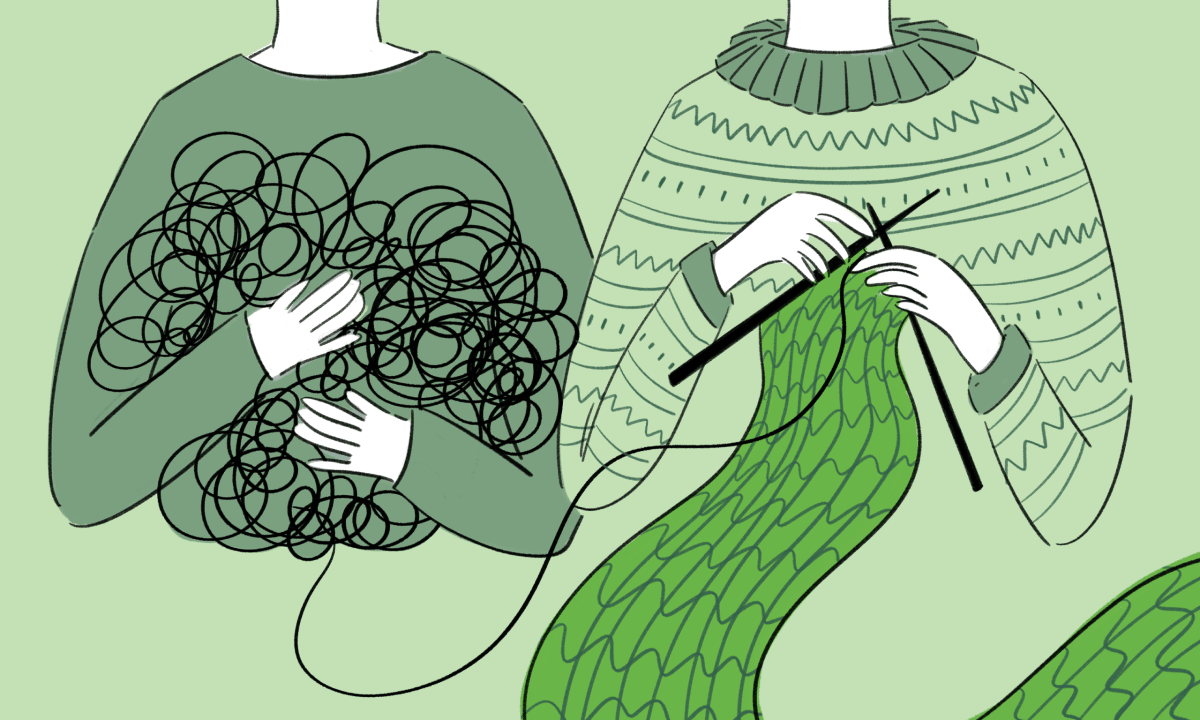 So you want an app for your business but don't have the time or expertise to build one? Perhaps you're on a tight budget too. You might be wondering whether there is a way to get a high-quality app that won't break the bank.
The solution is app development outsourcing. If you're still in doubt, uncover 4 good reasons to outsource app development.
App development: The market state
In 2021, the number of smartphone owners globally surpassed 6 billion — and the average daily usage time per smartphone user increased by 30% in 2020, reaching 4.8 hours. Mobile traffic accounts for 59% of total website traffic — and this share is expected to continue increasing.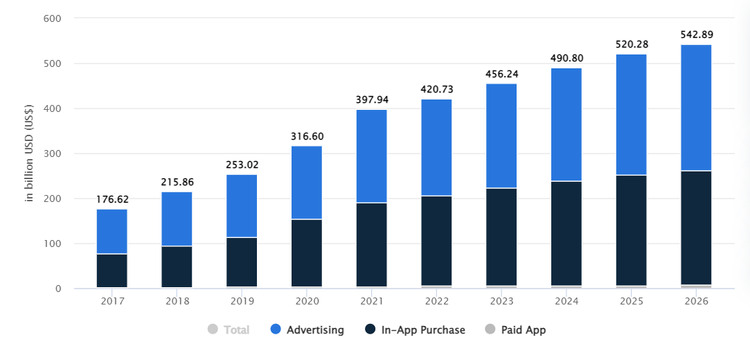 The increasing ownership and use of smartphones are contributing to growth in the app market. Total app market revenue has grown steadily over the last 5 years. In 2021, it reached $398 billion, with ads accounting for 52% of revenue. This money was generated from 230 billion app downloads, with the most popular categories including games, tools, and social networks.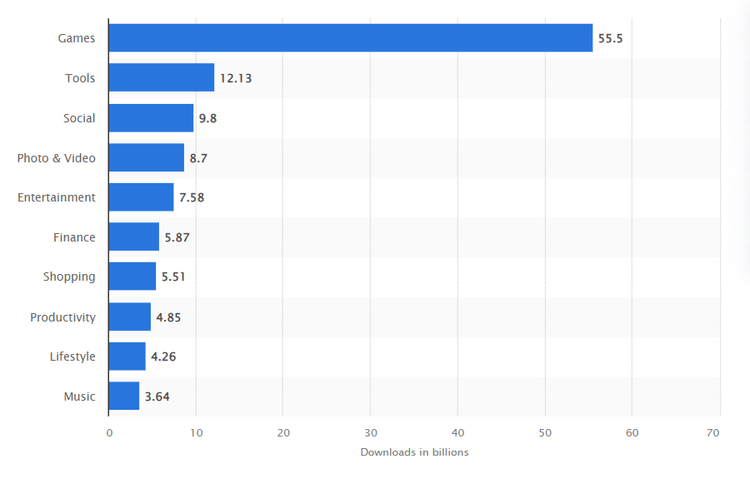 Why do these numbers matter? Put simply, the mobile app market is highly competitive but growing, so there's never been a better time to develop an app for your business. Launching a mobile app will open endless growth opportunities. But the risks are high too — app building is expensive and only 0.5% of consumer apps succeed. Is there a way to mitigate financial risks or even improve your potential market performance? Let's find out.
What's in (app) store for the market?
Thousands of apps are released each day. The market is competitive, but you still can stand out and boost your business by going mobile. Work with us and get an app that will support your business goals and generate revenue.
Outsourcing vs in-house
If you want a mobile app for your business, you have two options — in-house and outsourcing mobile application development. Let's take a closer look at both options.
In-house development: All in your hands
In-house development involves hiring your own team from scratch or gathering the team of employees you already have.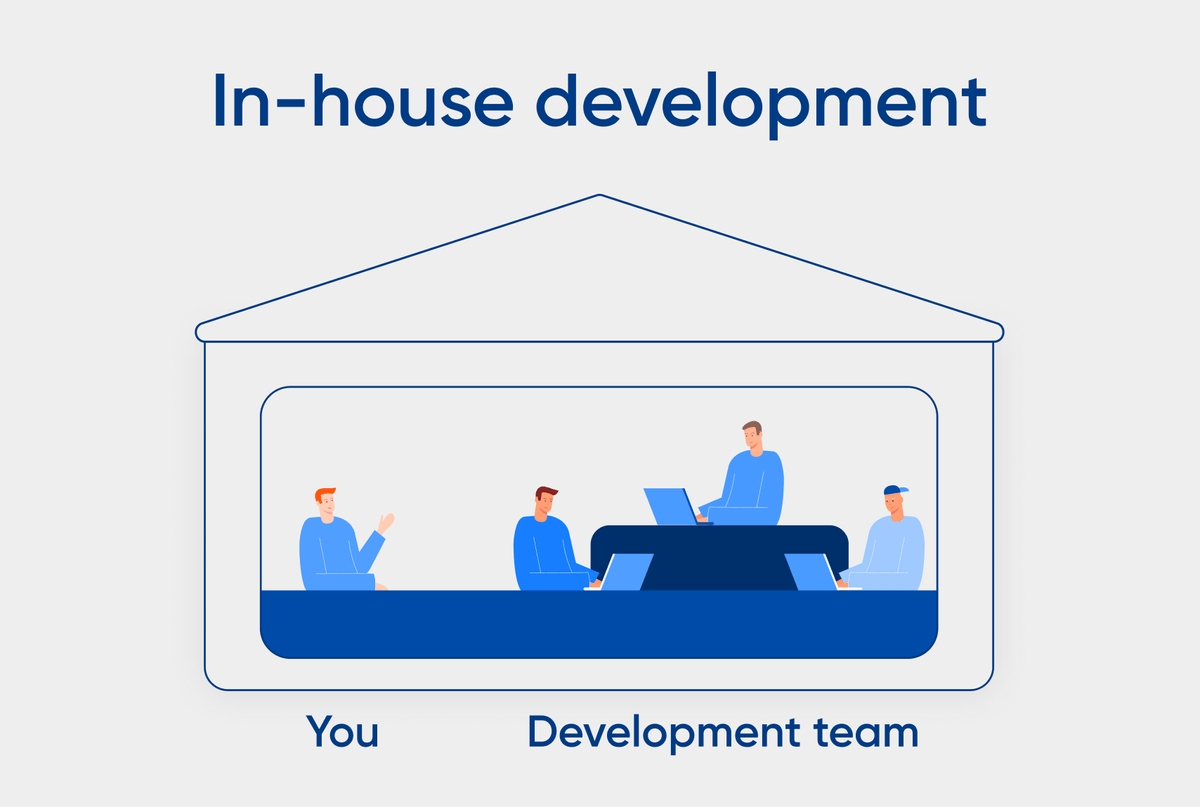 This approach has its perks. With your own team, you're in total control of the process, including quality assurance, and you'll be working with people who already understand your company's values. Large tech companies like Amazon cherish these benefits and hire their own developers. But in-house development has serious drawbacks:
It's expensive. According to Talent.com, the average React Native developer in the US is paid $60/hour. On that basis, just one full-time developer will cost you $9600 a month.
It's time-consuming. Data from Glassdoor shows that the average time to hire a software developer is 40.8 days. And it doesn't end there — onboarding a new employee takes one to two months, or even longer for junior developers.
Turnover is high. The average turnover rate for a software developer is 57.3% — and finding a new employee will likely cost you 6 to 9 months of your former team member's salary. And it's not just money — it's hiring and onboarding time too.
You have more responsibilities. Since it's your team, you are responsible for workplace processes, managing the development (even if you have a PM), and upskilling the team. It means more time and more money. Salary is only one of many expenses.
Is there a way to avoid these problems? Absolutely. The solution is outsourcing.
Outsourcing: Pay and wait
Before we dive into the second option, let's establish the difference between outsourcing and outstaffing.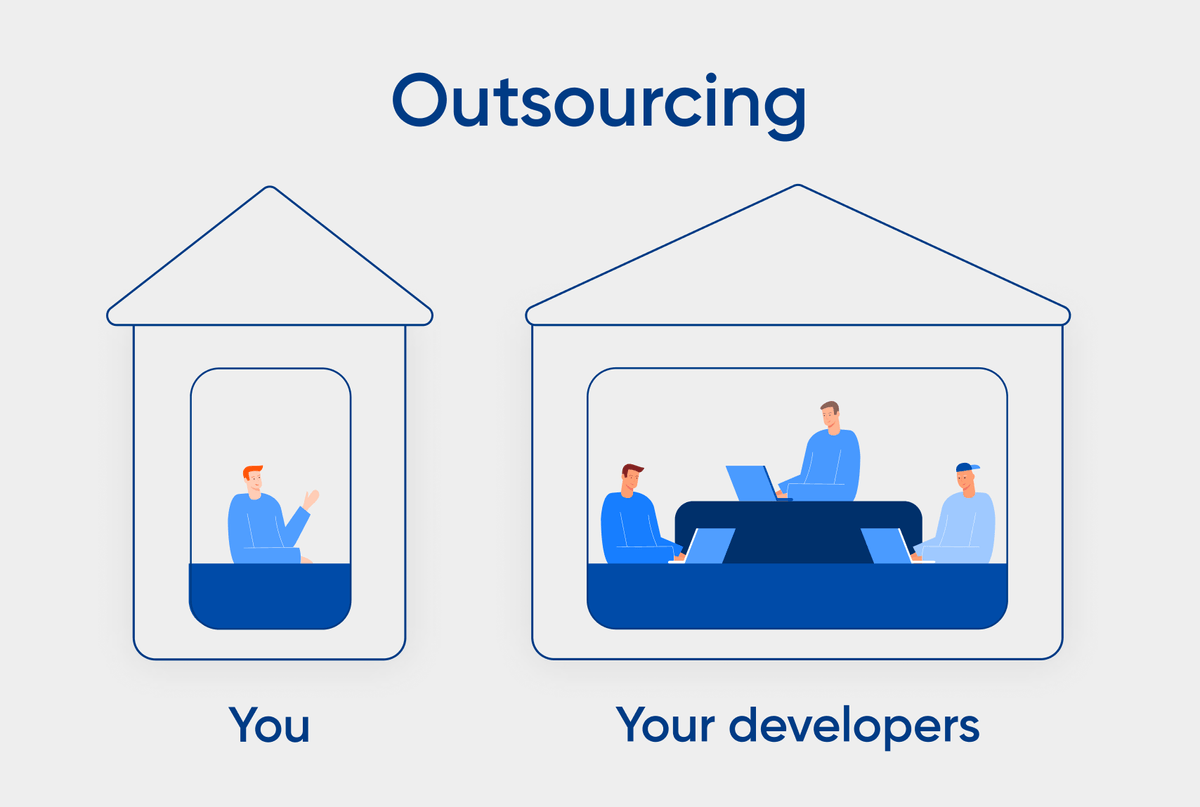 Imagine that your company needs a mobile app. You can't afford to hire your own team and you need a production-ready app as soon as possible. So, you get in touch with an experienced development agency, pay them, and let their team work on the entire project from A to Z. This is mobile application development outsourcing.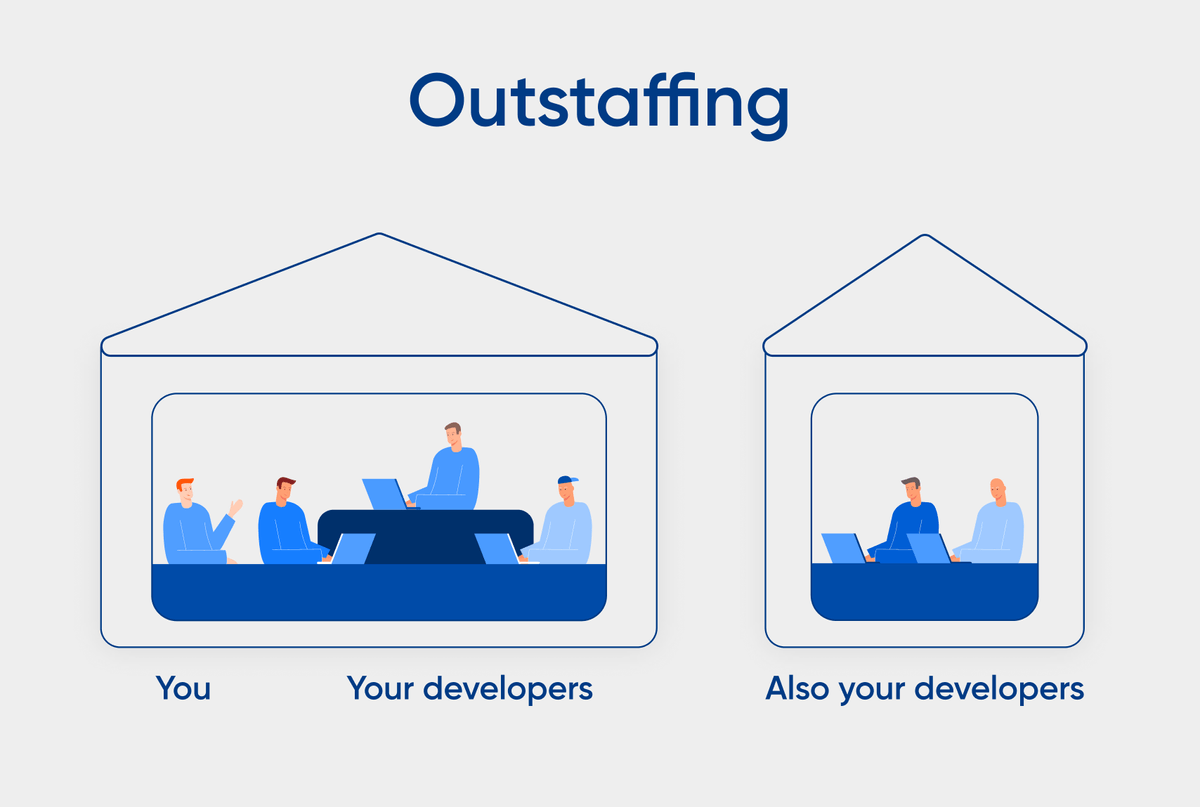 Now imagine that your company already has a website that runs on React and you have your own development team. The team builds the app on React Native, but there's a problem: no one in your company knows how to test mobile apps. To save time and money, you approach a recruitment agency to seek QA specialists to test your app. You outsource tasks to these external tech talents, who work together with you and your team. You're not their employer — their employer is the agency. This is outstaffing.
The key takeaway is:
Outsourcing is giving the entire project to the third party.
Outstaffing is extending your team with third-party employees to do a certain part of your project.
Let's take a closer look at outsourcing. The four kinds are about who you outsource mobile app development to: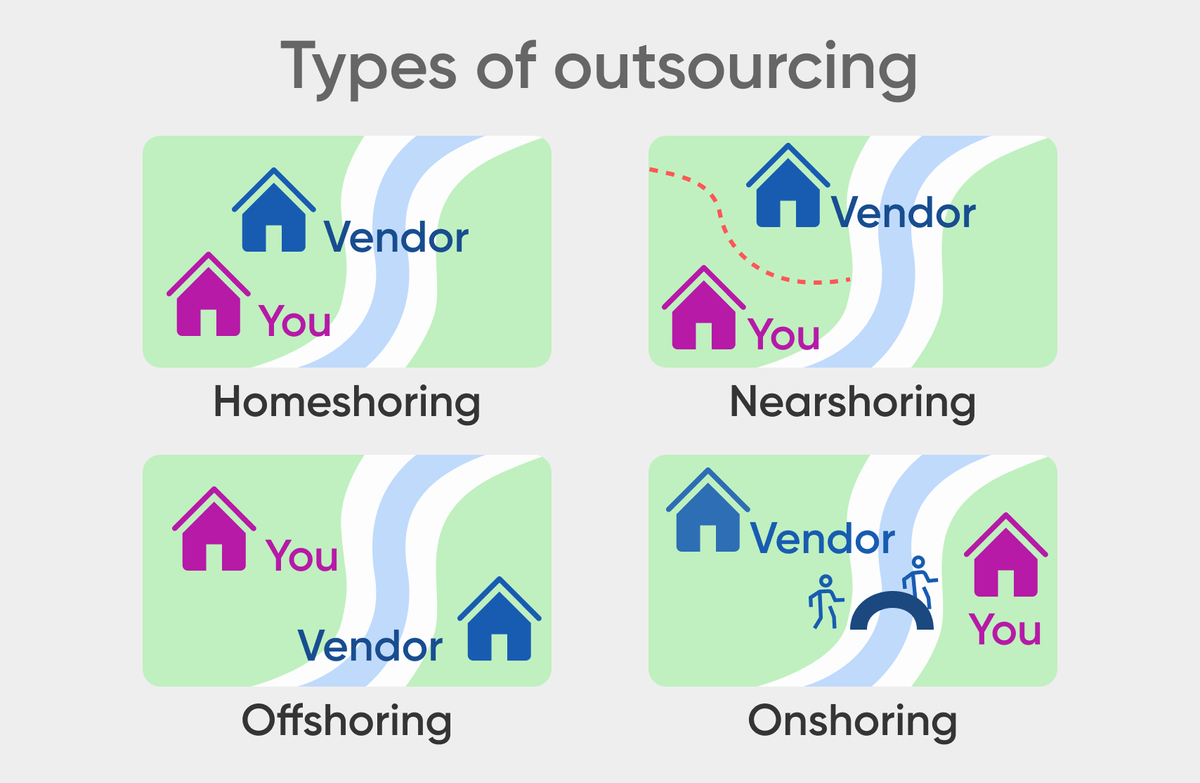 Homeshoring — the vendor is in the same country or city as you.
Nearshoring — the vendor is in a different country but close to yours.
Offshoring — the vendor is in a distant country. This will likely save you money but drawbacks include time zone differences and language barriers.
Onshoring — moving the initially offshored project to your country by relocating vendors or giving the project to a different vendor.
No matter which model you choose, your business will enjoy the benefits of mobile application outsourcing.
Feeling overwhelmed?
We get it, but starting a software project yourself in your company will be even harder. Leave it to an experienced team of designers and developers and get a first-class app that does the job.
4 reasons to outsource your mobile app development
How can your business benefit from outsourcing app development? Let's find out. We've uncovered 4 reasons why you should outsource mobile application development.
You save money on salaries
If you hire your own developers, their salary is your responsibility for years of development and maintenance. But if you outsource your mobile app development to a development agency, it's the vendor who picks up the monthly cost of the developers. Of course, outsourcing isn't free — but you're only paying for the developers' time on your project, not to keep them around. And this isn't the only way to reduce costs...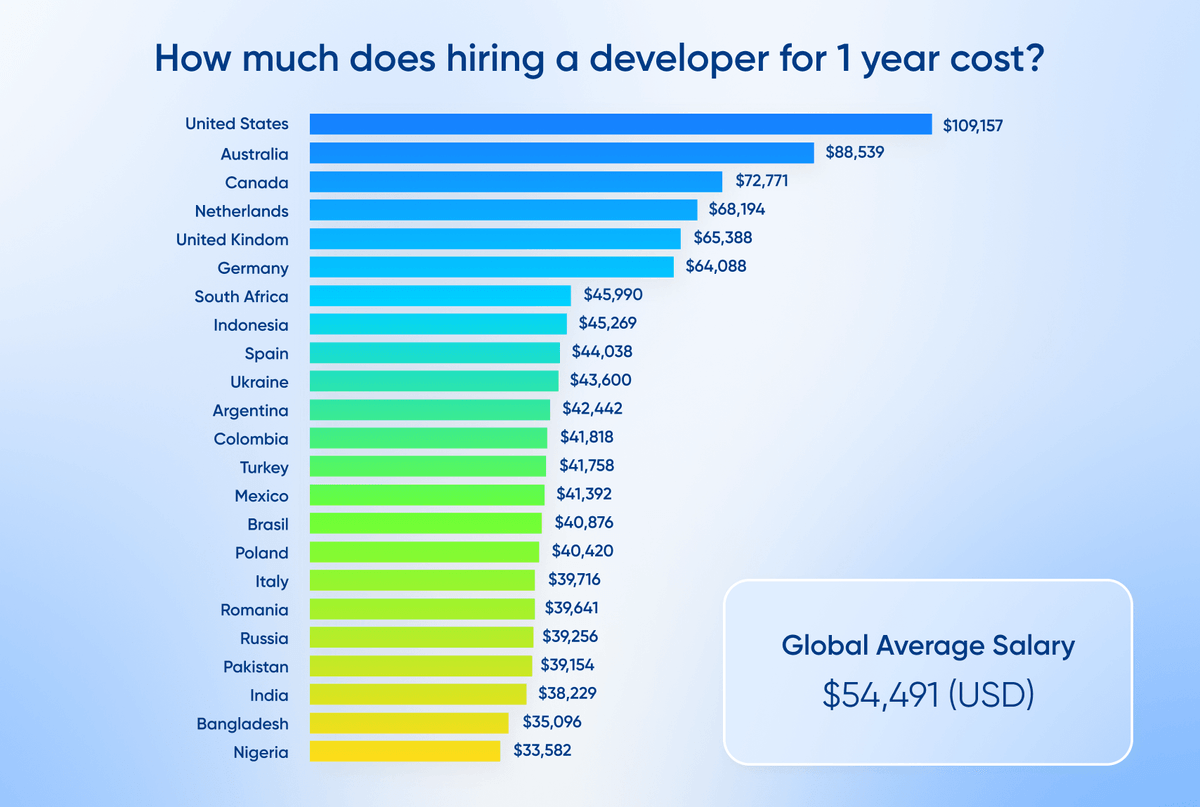 We've already mentioned offshoring as one outsourcing model — it's a good tactic, especially if your business operates in the US. Working with professionals in Eastern European countries, where services are cheaper in general, will allow you to pay your vendor less without underpaying the team.
Outsourced teams work faster and more efficiently
We've already mentioned that hiring just one mobile app developer will take you more than a month and onboarding a new employee could take you up to 6 months. But it doesn't end there — employees have to actually bond as a team, which, on average, can take 4–6 months.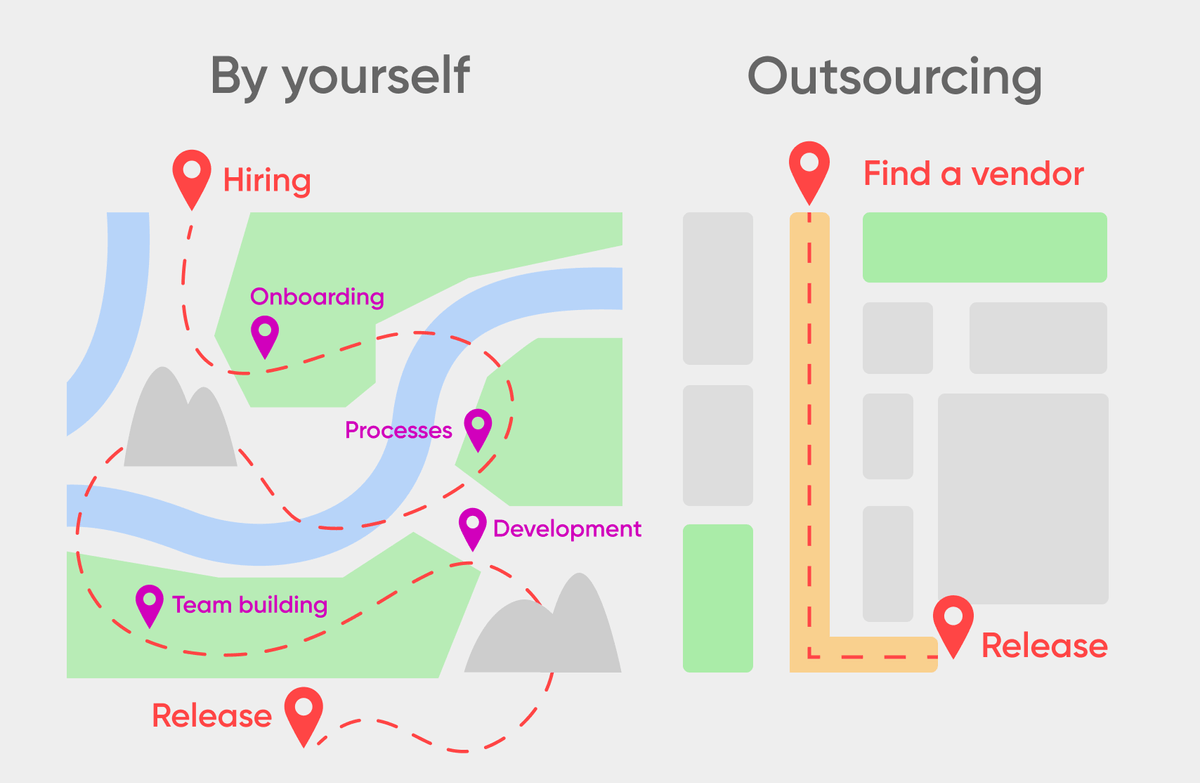 If you're outsourcing application development to an agency, you will be introduced to a team that's had years of project experience and knows the dynamics for productive working. Their processes are established, everyone has passed the onboarding stage, and the team will handle the same tasks faster and more efficiently than any newly hired team. Ultimately, for you, that means a quicker app release.
Your project will be handled by experts
If your business has nothing to do with IT, you might not know where to start with mobile app development — the process, market standards, and so on. And, even if you come up with a decent idea, a lack of technical competence might decrease your chances to succeed.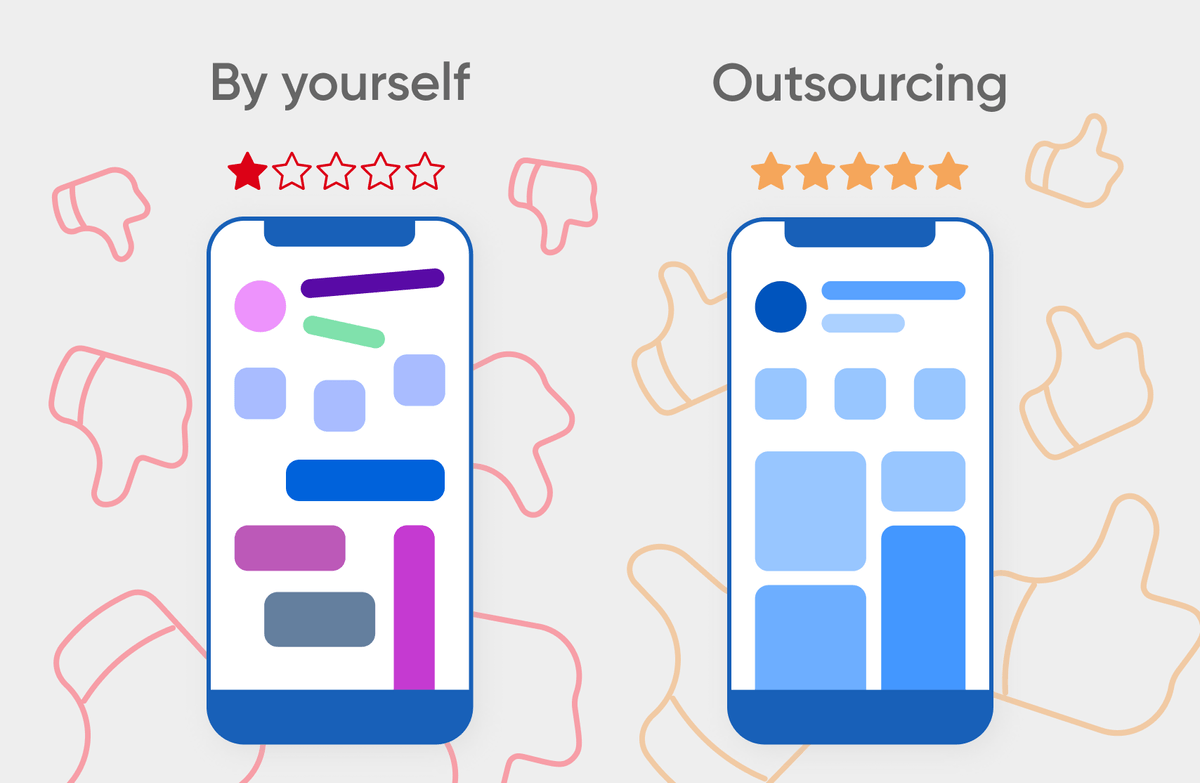 Development agencies provide you with a team of experienced product designers, specialists in UX/UI, and talented developers, who know how to create the best online travel agency software. These experts will help you refine your app idea and implement the features you need in the most efficient way possible.
Outsourcing allows you to focus on your job
According to Capital One Business, 42% of small business owners experienced burnout symptoms in 2021. Two years of pandemic restrictions saw rising prices, issues with supply chains, lower sales due to income reductions, and troubles to do with working offline. And there are ongoing stresses — inflation being just one that is making business owners exhausted.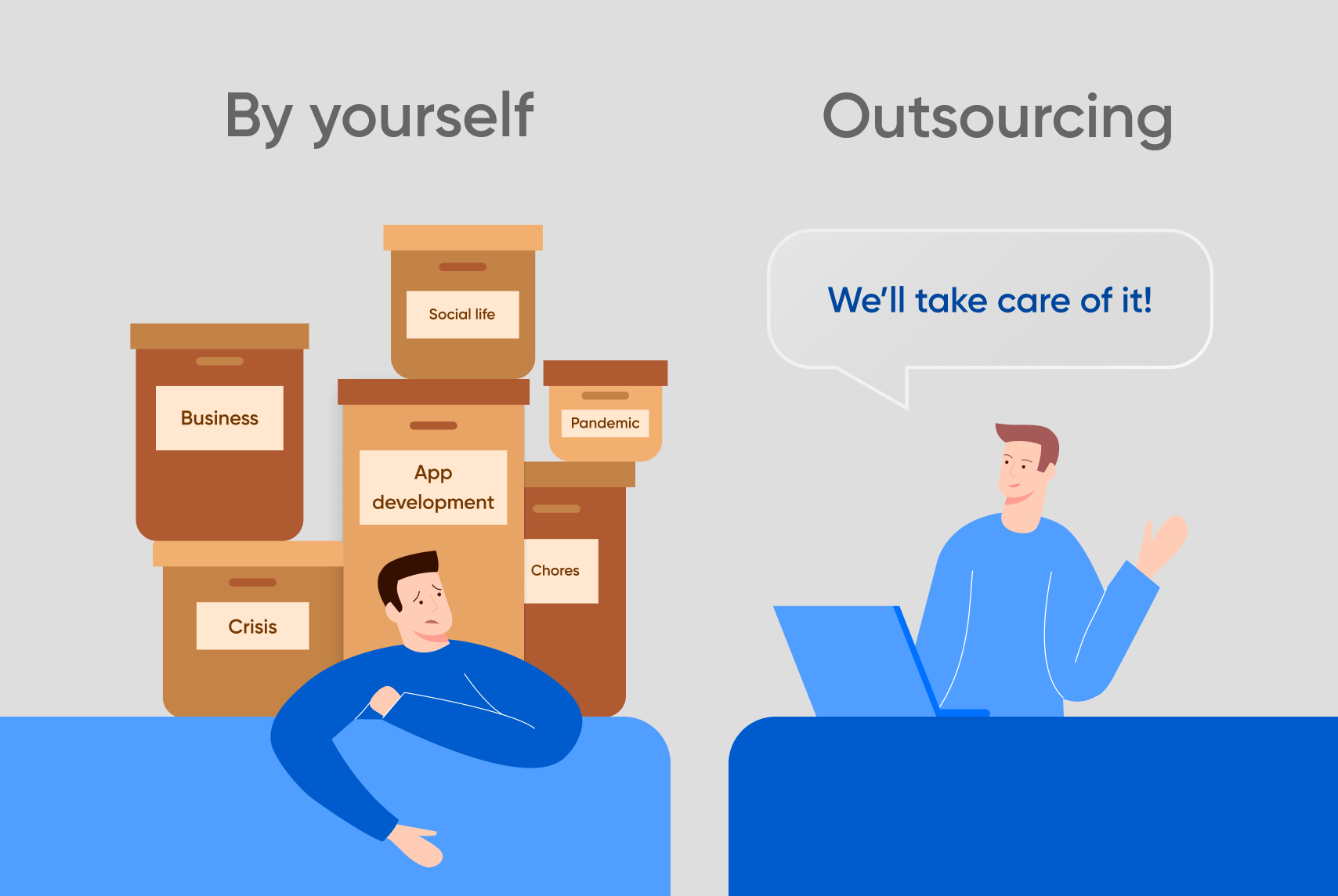 Adding mobile app development to your already long list of responsibilities and challenges won't help. You don't need to be distracted from what you do best — running your business.
How can Zoftify help?
Zoftify is a mobile app development agency based in Estonia, which is one of the best countries to outsource to. Estonia's IT sector is heavily supported by the government — in fact, it was the first country that allowed non-citizens to start companies using digital IDs. Our team of talented designers and developers will handle your project from A to Z, so all you have to do is sit tight and wait for the final product.
The last three years have been hard for businesses and stressful for CEOs. We all know that one of the best ways to ease burnout is to delegate tasks. Here's how outsourcing saved one struggling business owner.
Maya's story: A mobile app to save the day
Maya owns an edtech startup in Topeka, Kansas. Her online school teaches important skills that IT companies nowadays demand — including more niche skills like narrative design. Maya's school already had a good, responsive website, which was originally enough for her business. Thanks to lockdown boredom, the school thrived during the pandemic, but in 2022, people started saving more money and school enrollments dropped drastically. Many students ditched their long-term programs and asked for refunds. Maya had to let go of many teachers and course producers. She was exhausted, but she had to save the company. Her idea was to create a mobile app with cheaper, short-term programs. But she couldn't afford in-house developers and she was too overwhelmed to take on the extra responsibilities.
Maya contacted Zoftify in April. She warned us that she would be going on vacation to address her burnout. That's why we only contacted her during the mobile application prototyping process. After two rounds of feedback, the design for Maya's app looked like this: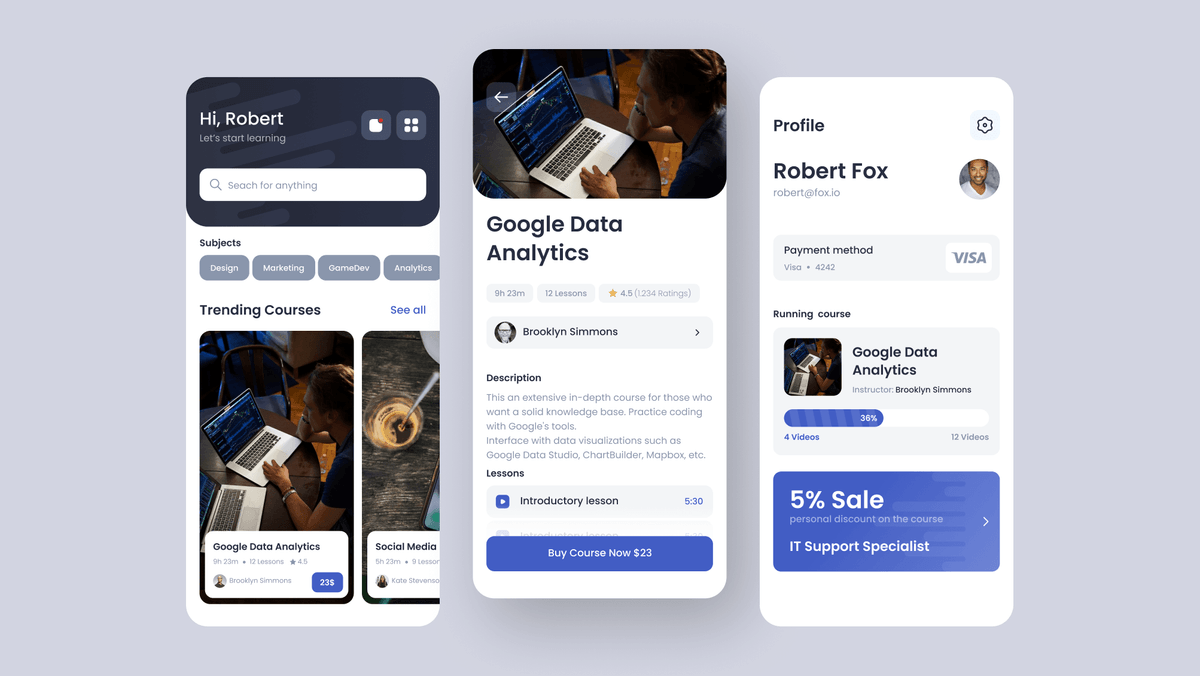 As soon as Maya left the country, we started coding — and by the end of July, she had a production-ready app. With the app, Maya's course sales increased again and she was even able to rehire two teachers. Maya's hypothesis was proven — people are more willing to buy short-term courses that require less effort, commitment, and money.
Maya's story is fictional — but if you're struggling with burnout and want to save your business by going mobile, we're here to help.
Final thoughts
App development outsourcing benefits you and your business:
It's more cost-effective than in-house development and saves you time — you won't spend months hiring and onboarding a team, and salaries are not your responsibility.
It yields better results — your project will be nurtured by experts.
It keeps you focused on your job — running a business is already a big deal, so delegating tasks is efficient and saves you from burnout.
Our digital product development company has been working for years — and our well-established processes allow us to release MVPs in just 3 months. We're also interested in maintaining every project we've ever touched and we want your business to thrive — the better you're doing, the better we're doing.
Interested in working with us? Tell us about your app idea — just send us a message.
FAQ
What is the difference between outsourcing and outstaffing?
Outsourcing is giving the entire project to an external team. Outstaffing is expanding your team with external specialists.
What are the main benefits of outsourcing?
Outsourcing saves you time and money — you don't have to spend months hiring a team and including salaries in your budget. Giving your project to someone else also improves the quality and the efficiency — it will be nurtured by a well-formed team of experts in mobile app development.
What is the best country for app development outsourcing?
We suggest outsourcing app development to Eastern European companies. These countries have highly educated developers and designers that will make you an awesome app for a lower price than development teams of the same quality in the US can.
Alex loves travel and tech and founded Zoftify to help travel companies use technology more effectively. Before this, he worked in tech consulting, where he led international mobile development teams.