Custom booking software for independent professionals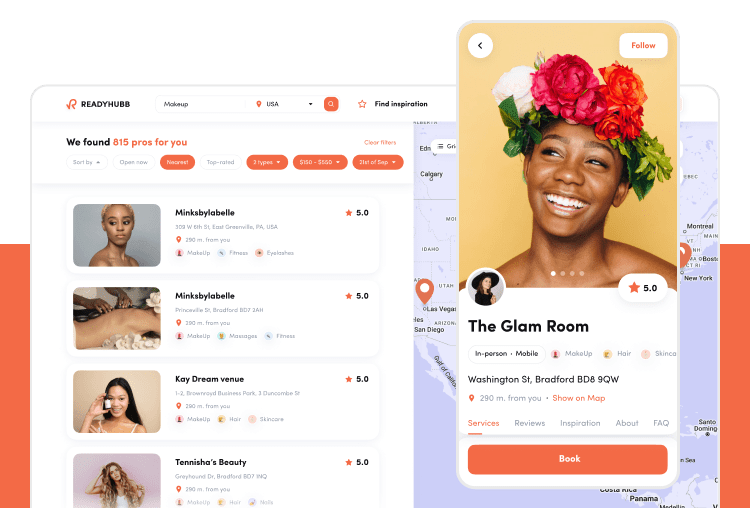 About the client
Readyhubb was founded by Chidi Ashley — a famous travel entrepreneur best known for starting the travel community Luxe Tribes. The goal of her new project was to help independent beauty professionals in the US find clients and manage no-shows.
Challenges
Our client wanted to build a comprehensive platform for independent beauty professionals and their clients. It was supposed to help ease professional-client interactions at every step: from finding each other to leaving feedback.
Let down by a previous team of developers, Chidi brought this complex project to us with a tight deadline. Nevertheless, our expert team was able to build a successful Readyhubb booking app that continues to thrive today.
Solution
We built a cross-platform beauty service booking app for iOS, Android and web. The app uses filters, maps and more to make it easier than ever for users to find and book nearby services.
Readyhubb has been featured by Forbes.
Results
We successfully took over the project from the previous development team, who were unable to meet the client's expectations. Our UX specialists also recommended design improvements to improve the user journey. Our client was so happy with our work that they approached us to help them rebuild their core travel business platform.
2000+
Businesses now listed on the platform
4.9/5
Outstanding App Store rating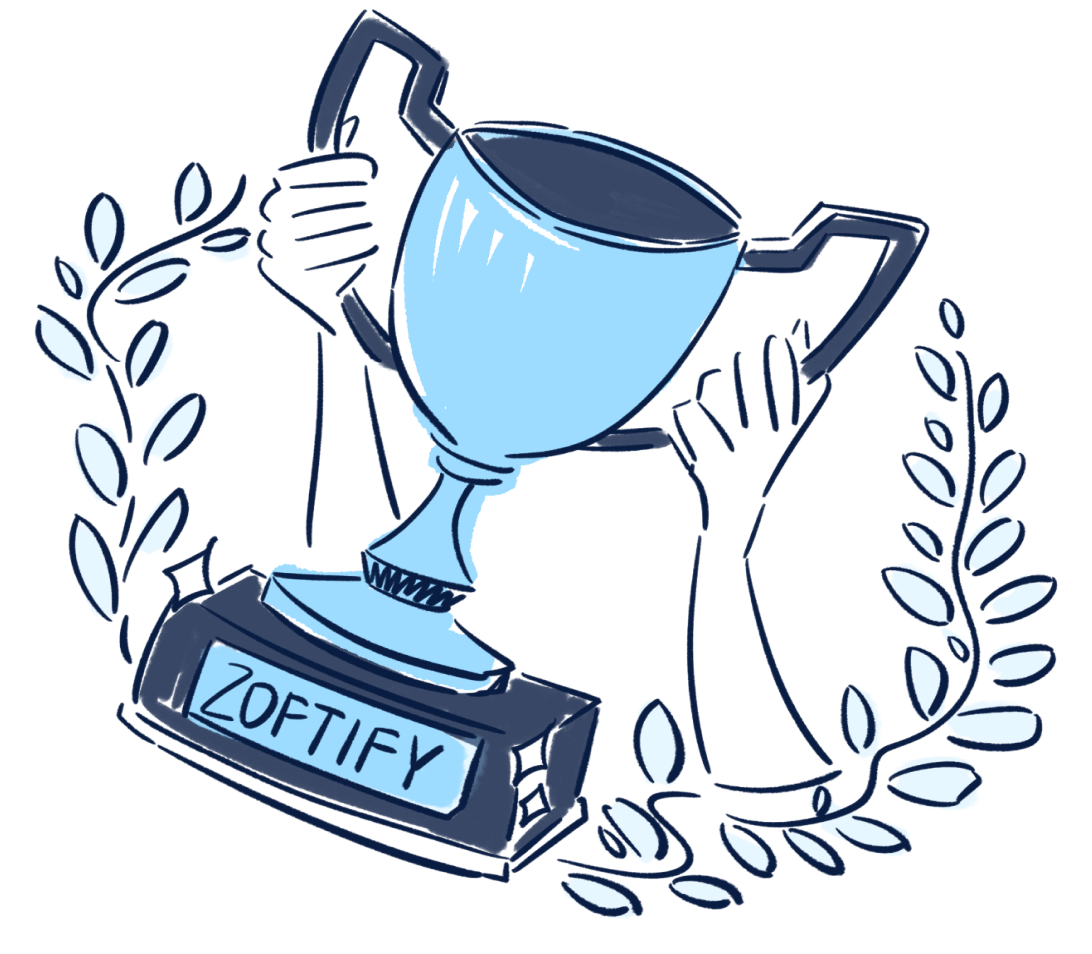 What the Client says
Chidi A.
Founder and CEO of Luxe Tribes & Readyhubb
I have to commend Zoftify team for their excellent work on our recent project. The team were instrumental in delivering our project on time and with the utmost professionalism. Their attention to detail was particularly impressive, and their communication throughout the project was excellent.
Feature highlights
We've succeeded in delivering a solution that helps both pros and their clients with maximum convenience and transparency. To achieve that, we introduced: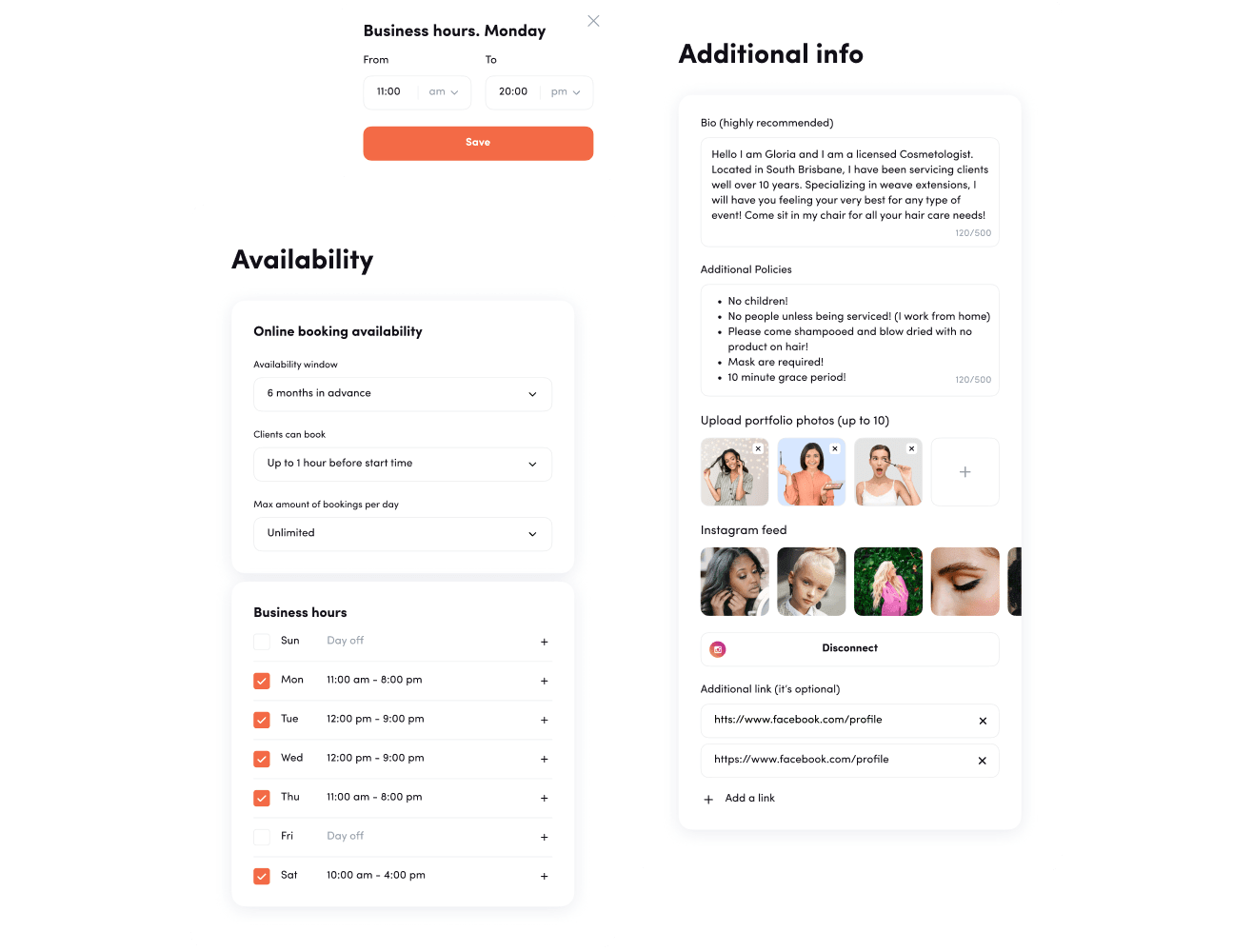 Advanced availability settings
Readyhubb allows pros to adjust their availability and manage their time. They can set a maximum number of bookings per day, add business hours, show availability windows and booking time rules, and more.
Fast location-based search with filters
A robust search feature makes finding local pros easy. Multiple filters help users narrow their search down to the pro that is right for them.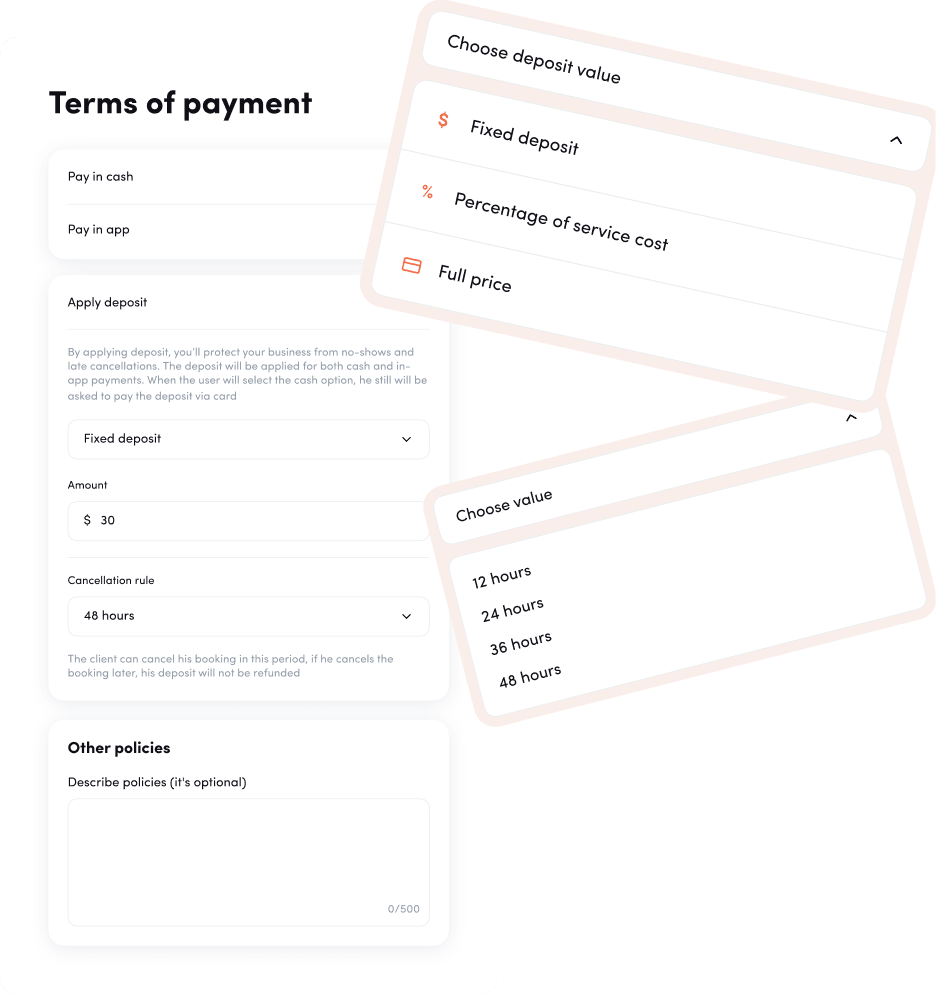 Customizable deposits to reduce no-shows
Pros can require a deposit (e.g. fixed or percentage-based) and set cancellation rules to prevent no-shows. Enabling a stable workflow minimizes unnecessary losses.
An intuitive map menu
A convenient map menu allows users to explore and discover the best professionals in their area. Markers on the map indicate the locations of pros, linking through to their profiles for more info.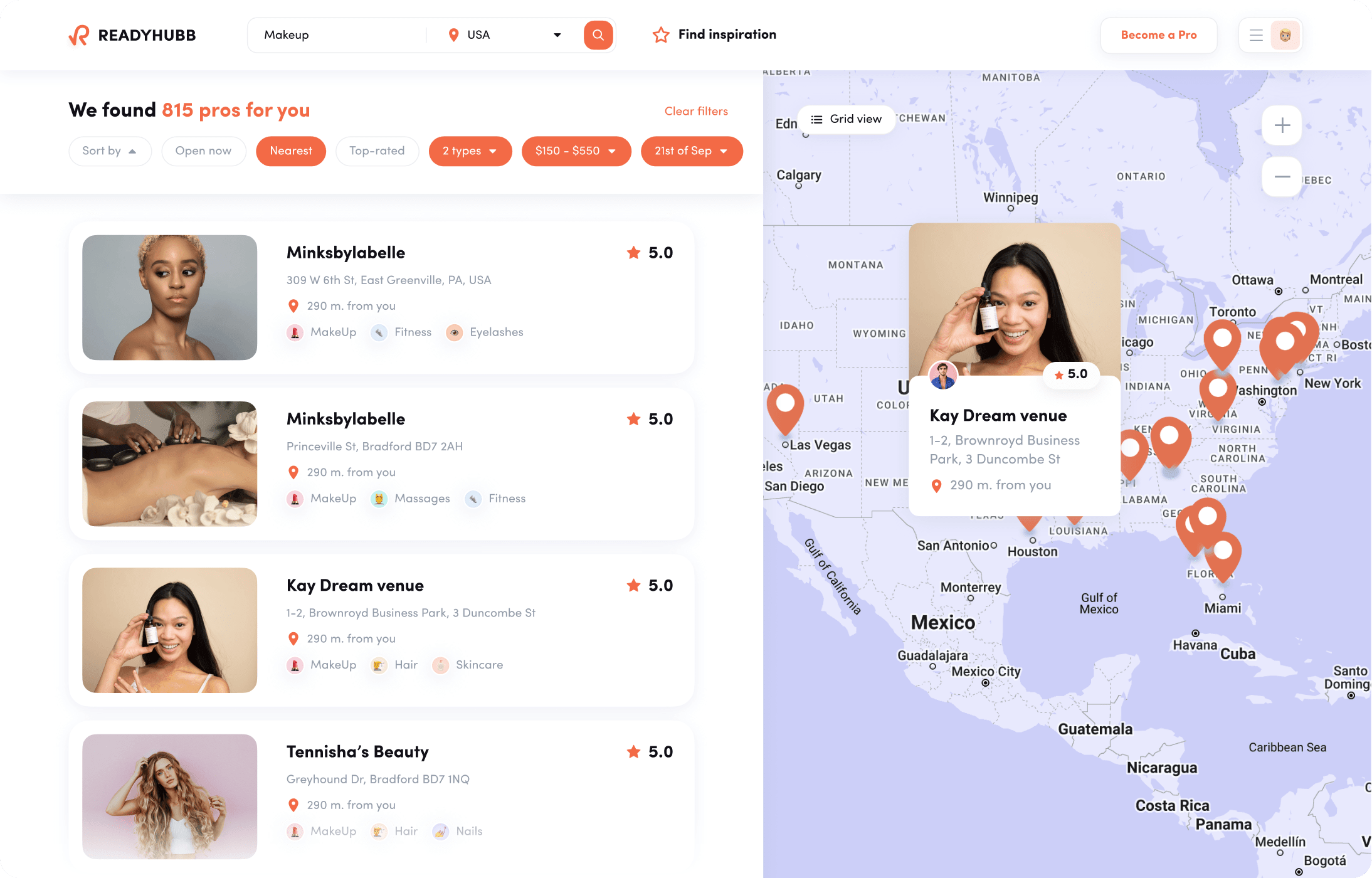 Automated sync with Google Calendar
The app seamlessly syncs with Google Calendar, so pros and clients receive automated updates and reminders for scheduled appointments.
Secure payment system with in-built cash flow analytics
A reliable and convenient in-built payment system allows for quick and easy transactions, while also providing statistics on cash flow to help pros analyze and manage their revenue.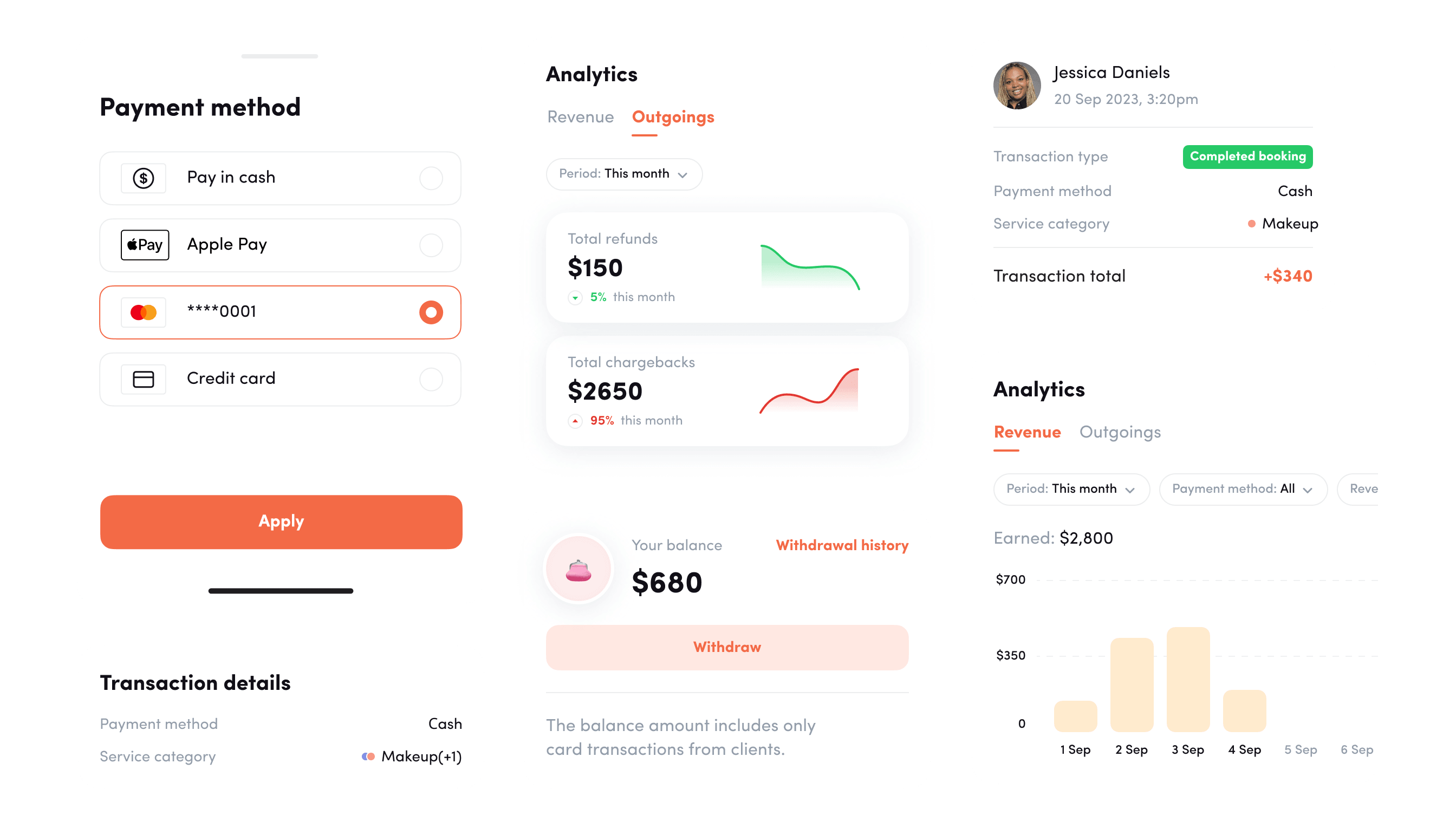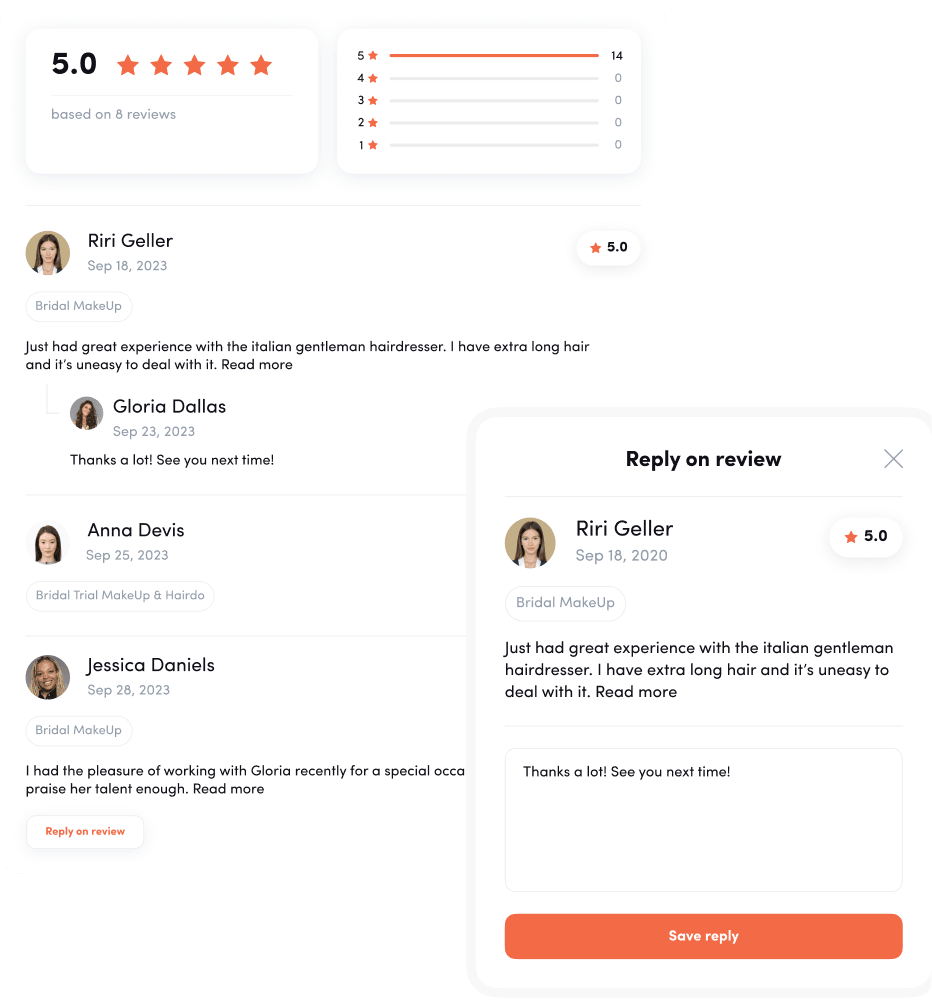 Ratings and reviews
A straightforward rating and review system allows users to estimate the quality and reliability of the professionals on the platform. It also provides pros with feedback to help their growth.

Interested in developing an app for your company?
Our expert developers can bring your idea to life. Get in touch today.