Retail app development: 4 reasons to launch an app for your customers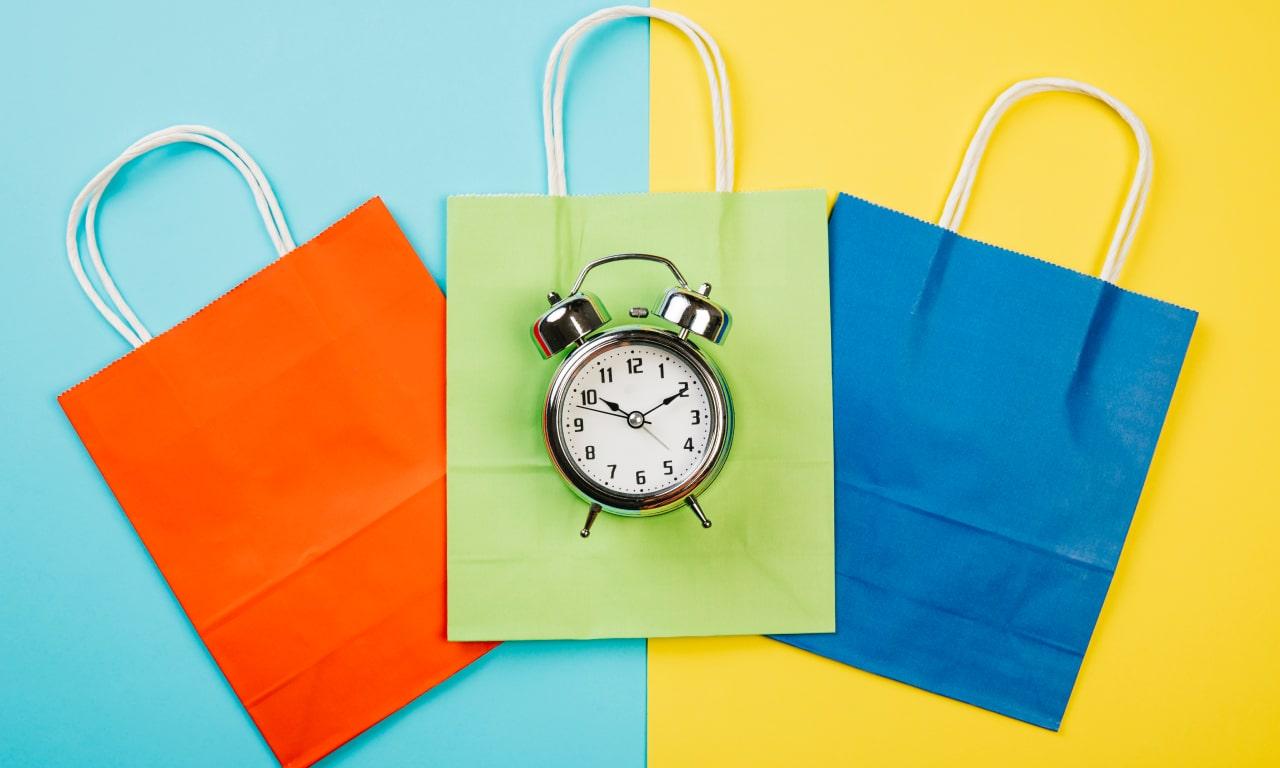 Does your retail business need a mobile app? Which one is better: an app or a mobile-friendly website? How can retail mobile application development improve customer experience and make the world a better place?
This article is all about retail app development: the state of the online retail market, use cases for mobile apps in ecommerce, and reasons to make a retail app for your company.
Online retail: the current state
The online retail industry was massively affected by the COVID-19 pandemic. According to the U.S. Department of Commerce, the total online sales growth in 2020 reached an astonishing 31.8%. And, from Q2 of 2020 to Q1 of 2021, the growth percentage fluctuated between 30% and 40%.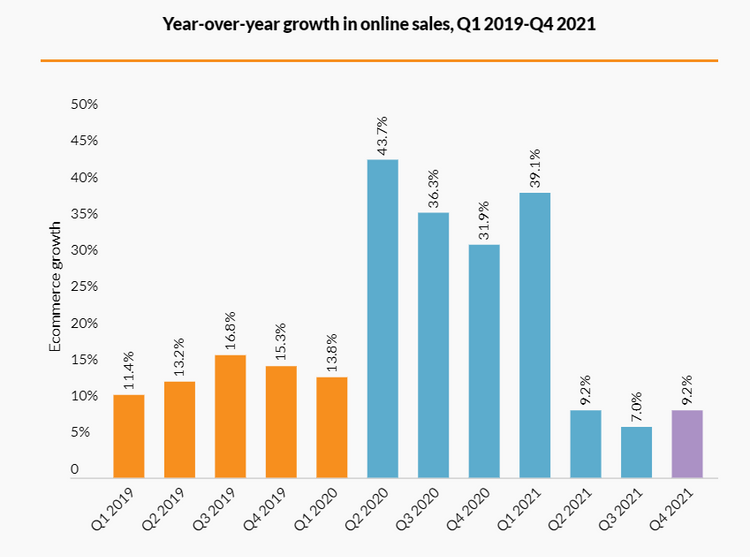 Once lockdown measures were lifted, the growth percentage decreased drastically but started to climb again at the end of 2021. But this doesn't mean that online retail business growth was purely driven by COVID-19. Worldwide ecommerce sales have been increasing since 2014 — and the trend will continue up to 2025, when the total estimated revenue is expected to reach $7.391 billion. Here's some data from Statista on the size of the US market with predictions for 2023–2025.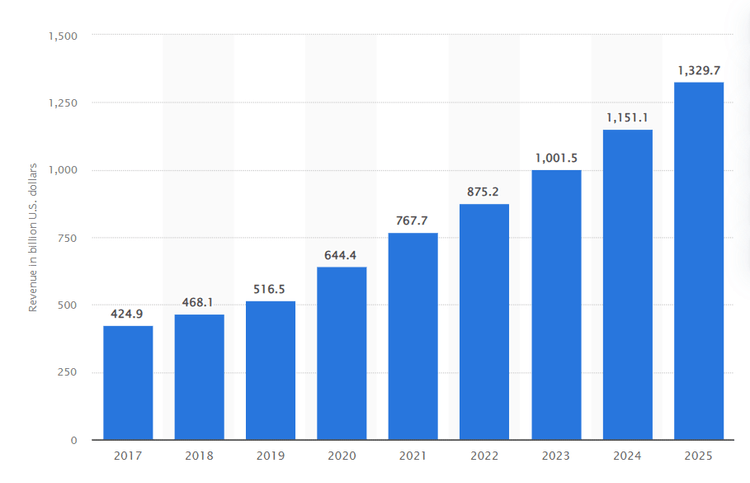 The data on mobile retail is even more promising. By 2025, mobile commerce will account for 44.2% of online sales in the US, bringing $728.28 billion of revenue, which is double the 2020 figure.
The data shows that online retail space will keep growing — especially mobile commerce. But which is really better for boosting a business: a responsive website or an awesome app?
Retail website vs. retail app: which is better?
By the end of 2021, nearly 55% of global time online was spent on mobile devices. But does that mean every retail business needs an app? Isn't a mobile-friendly website enough?
Retail website development is more cost-efficient compared to retail app development, and websites are easier and cheaper to support and upgrade. Websites also reach a wider audience — people without smartphones have access to them and one website version can be compatible with all devices.
But despite all these wins for websites, mobile apps will do more good for your business. Let us tell you why — here are just some of the reasons to build a retail app instead of a responsive website.
More interactive options
Even the most responsive websites are generally about displaying content to the user. But retail application development provides more room for interaction — especially involving hardware like GPS or a camera.
Imagine you own a makeup store. Buying makeup online is tricky because you can't test each product. The solution is an AR app that allows to try lipstick shades on using a selfie camera. The makeup retail company Sephora did exactly that. You simply can't implement the same feature on a website.
Engaging your audience
A mobile app will nurture your community of loyal long-term customers. How?
Your customers are constantly looking at their smartphones, so you already have their attention to some degree. Make the most of it by expressing your brand's personality in everything from the app's icon to the tone of voice in push notifications — even the UI design.
Apps have push notifications — and if you don't overuse them, you'll get more engagement than you do on your website.
Offline mode
When a customer downloads your mobile app, most of the content is already loaded onto their smartphone. Customers enjoy being able to access content offline. It makes their experience with you feel quick and easy, which in turn will generate sales and loyalty.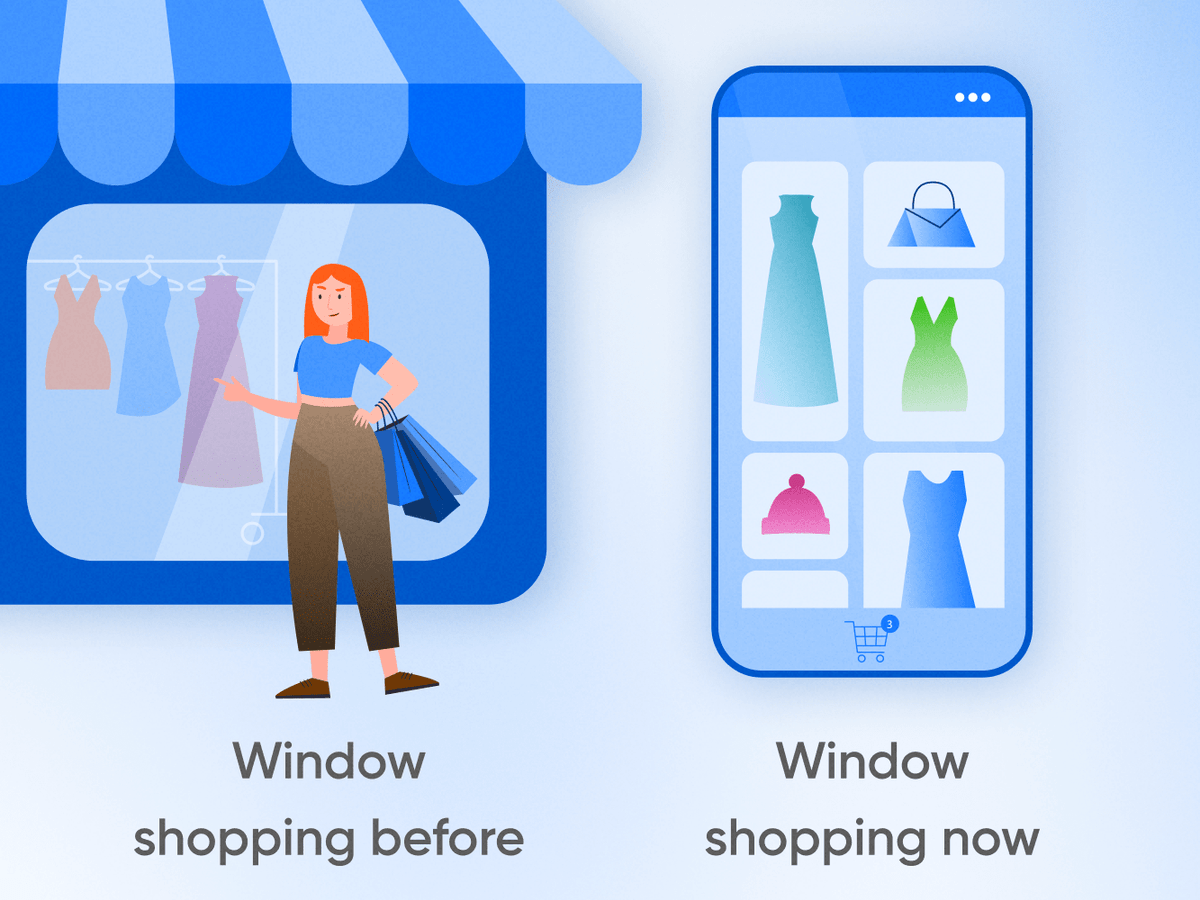 Imagine your customer is on a road trip. The coverage is poor — and they're bored. They use your app as a time killer — they look through your items and add stuff to favorites. Later, your customer returns to these favorites and decides to buy some of them. This scenario is much more likely to occur with an app than a website. Of course, some app content will require an online update — perhaps to retrieve news items or an order's delivery status. But in general, apps provide a quicker shopping experience — especially on-the-go or without great connection.
Long story short, apps provide more options and unique features, which increases your sales and brand recognition. But these are not the only benefits you can get from apps.
What is the coolest shop on the block?
The one with a mobile app. Why? These shops offer better customer experience, have greater brand recognition, and of course generate more sales — get all that and more for your business.
4 reasons to develop a retail app for your business
Not yet convinced? We're already explored how an app can benefit even small retailers over a website in terms of increased engagement and loyalty. But here are 4 more reasons to develop a retail app for your business.
Room for creative promotion campaigns
Retail mobile app development is unique for many reasons:
Mobile interface elements like push notifications give you more creative freedom when it comes to marketing campaigns.
If a user downloads your app, they're already somewhat loyal to you — and you can firm up that loyalty and create an entire community around your brand.
For example, here's how Lazada used this opportunity. This Singaporean marketplace introduced an in-app referral system that works like this. Users can publish their unique "Slash it!" link on social media. If a new app user clicks the link and buys something within 7 days, the original user who published that link gets a reward. Affiliate marketing is not a recent invention — but the mobile app mechanics allowed Lazada to gamify it, which works well for app engagement, sales, and customer loyalty.
Frictionless payments
Mobile-friendly websites allow users to link cards to their accounts. But apps have more options for cashless transactions such as payment options like Apple Pay/Google Pay or mobile banking apps. You can also add an in-app digital card specifically for transactions with your business — like AliExpress did. The AliExpress Pocket service offers a quick and secure payment option for those who don't want to give away their personal data.
Mobile retail apps also boost financial security. Take a look at Amazon Go, the first no-checkout supermarket chain. When you enter their stores, you 'sign in' using your palm or your smartphone with the store's app. Then you shop and, as you walk out, the money is automatically withdrawn from your card. Stores like this are few and far between right now — but in the future, many retailers may switch to this model.
Personalization potential
66% of customers want brands to meet their needs — and more than 70% of clients are more likely to repurchase or refer friends and family to companies that provide personalized experiences. That's why personalization in marketing is important.
A mobile app is a great instrument to scrape data about customers and their behavior. Apps collect demographic and psychographic information about users — and their activity metrics like session length and intervals, how often they open the app, etc. You can use this data for:
Personalized push notifications — from "your favorite is back in stock" to cart abandonment reminders or deals on items users expressed interest in.
Relevant suggestions based on demographics, average spending data, location, and search history.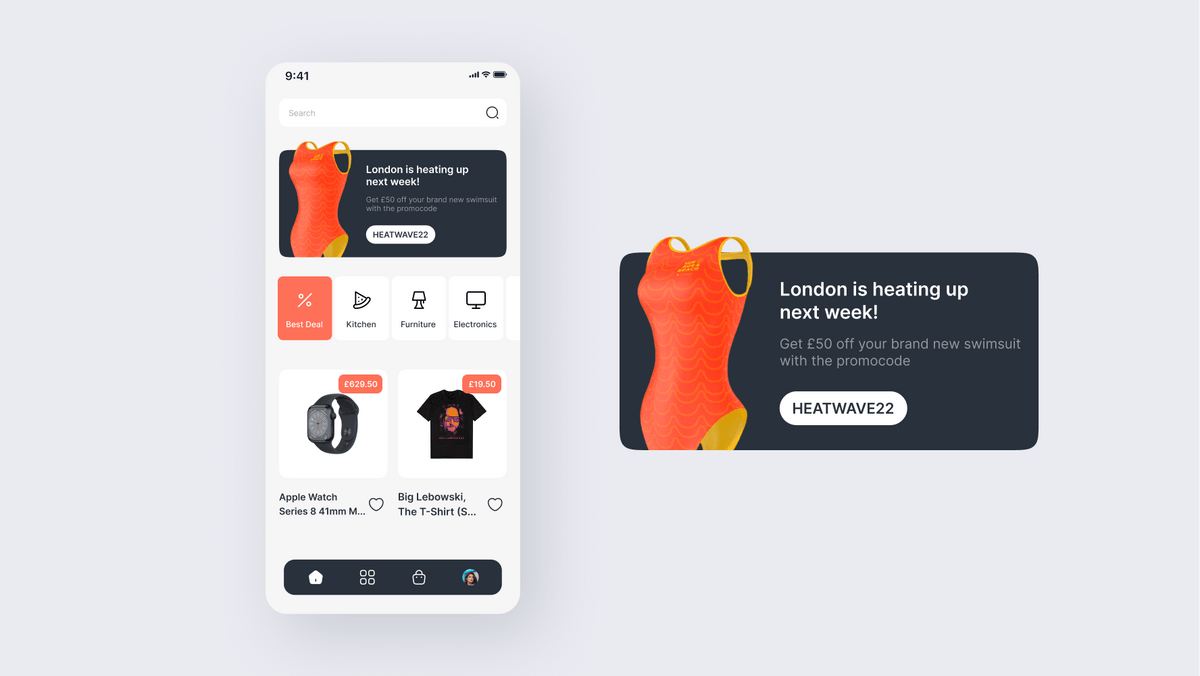 A particularly cool use of personalized app content involves GPS and weather forecast data — use this information to suggest seasonal items.
Improving in-store experience
With a mobile app, you don't have to sell offline. But if you do, apps can help you boost in-person sales. Features like mobile check-out, instant try-on, and in-store navigation improve the real-life shopping experience. Mobile apps allow you to create a retail environment where offline and online mix and complement each other.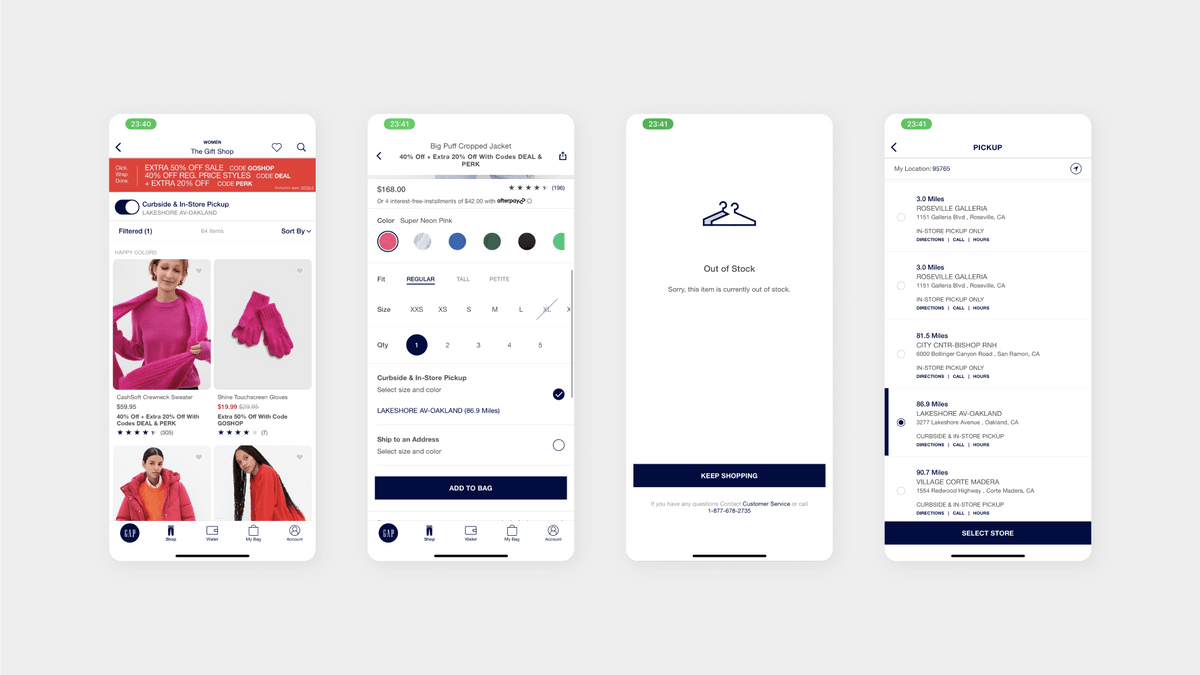 One great example is Gap. In their app, you can check if the item you want is available in stores nearby. This feature also notifies Gap staff when they should restock certain items or sizes on the sales floor.
Mobile apps can boost your business growth and improve customer experience both online and offline — they can also help you run your business more effectively.
Do you want to go mobile?
A mobile app can boost your retail business — but it can be tricky to figure out where to start. We'll be happy to join you on this journey and give you the helping hand of our experienced designers and developers.
Zoftify's experience: medicine delivery
Put simply, retail mobile apps can help you increase revenue. But there's more to it — with a good retail app, you can improve the world around you by making your business more inclusive. Our digital product development company got plenty of experience in digital retail app development — want to hear a cool story?
Jack owns a small pharmacy chain in Liverpool. He reached out to Zoftify in 2020, when lockdown measures saw his sales drop by 40%. Beyond this, he knew he needed a medicine delivery app because:
Brick-and-mortar drug stores are not an option for people with disabilities and chronic illnesses that require mobility solutions.
Access to healthcare is poor in rural areas — Jack wanted to make sure that people in remote regions could buy medicine when needed.
Our retail store app development team started designing the prototype of Jack's custom app right away. If you're interested in how that works, check out our article on mobile app prototyping. This is how Jack's app turned out: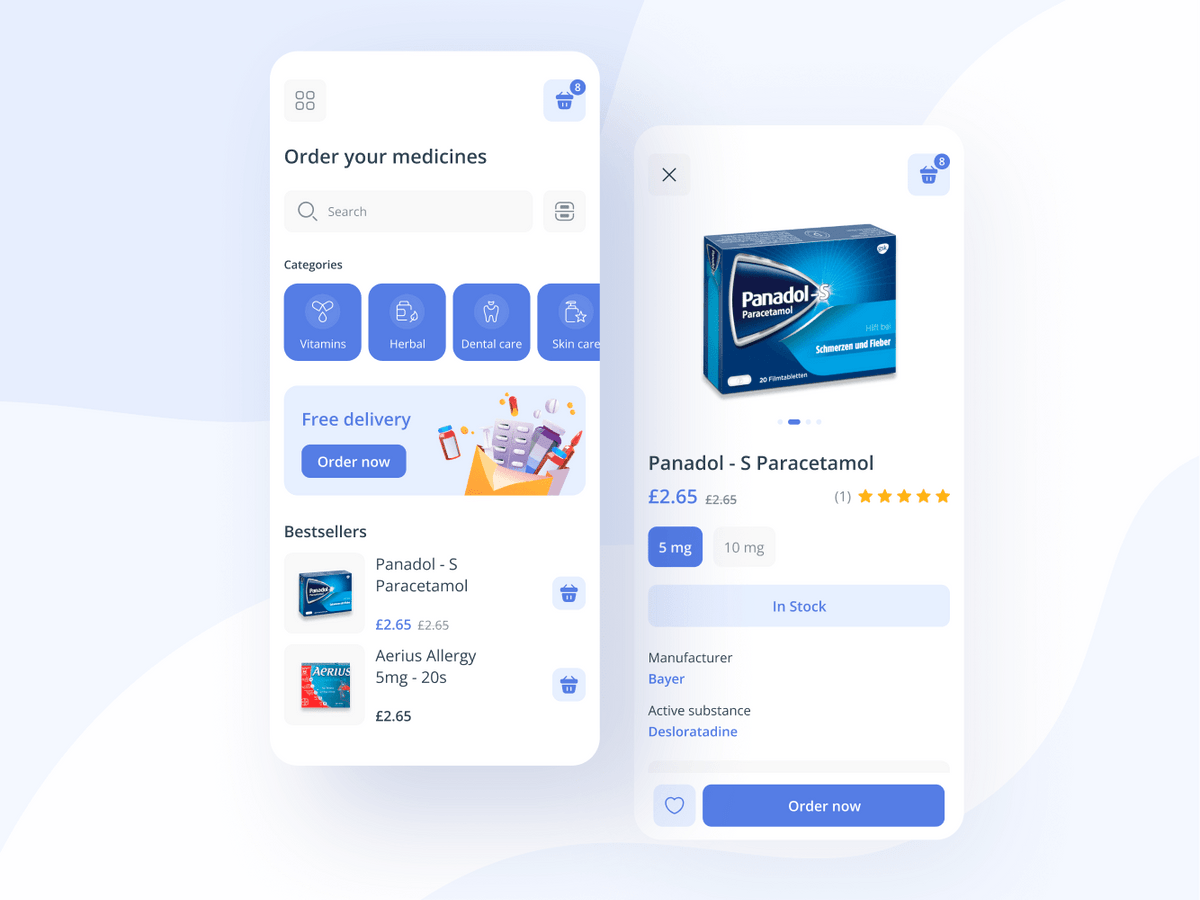 This project would be just fine if it just had all the features necessary for getting a medicine delivery. But it ended up being more than that:
We added ratings and reviews — this allows customers to ask pharmacists about side effects and cheaper options.
We implemented a barcode scanner — if customers need to repeat a prescription, they can scan the barcode from the box to make an order.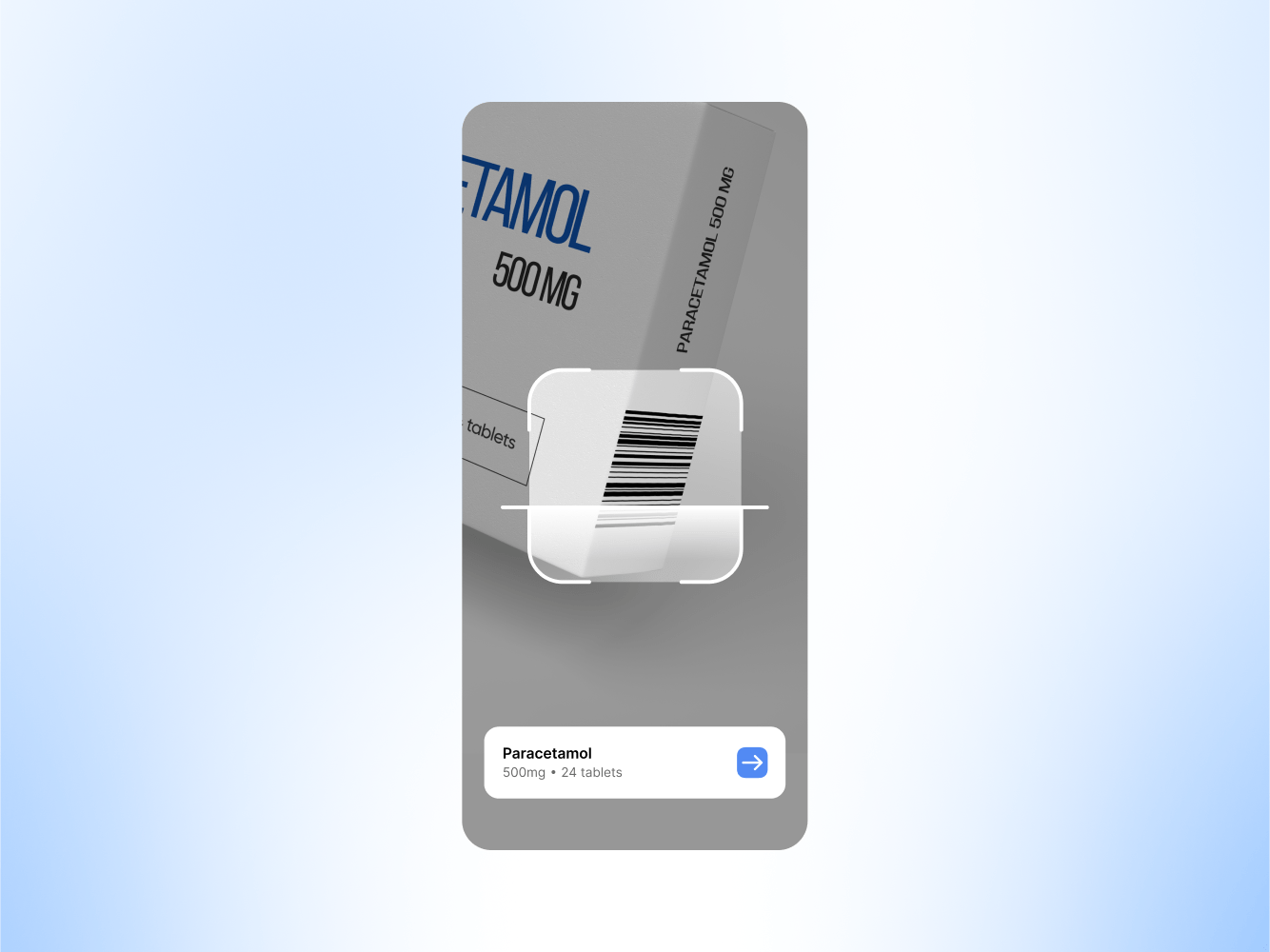 When we released the MVP, Jack started targeting ads in rural areas. This tactic increased brand recognition and dropped the cost per order by 50%. And after two years, the app now accounts for 25% of monthly sales.
There are many retail store application use cases just like Jack's. Click here to learn more.
Wrapping up
The online retail sector is growing — that's why it's time to build an app for your own retail business. An app is better than a responsive website because you can add interactive features, personalized content, and a frictionless payment system to improve customer experience. Ultimately, a mobile app for retail will increase your sales, brand recognition, and customer loyalty — it'll even make life easier for you as a business owner.
The problem is that hiring and managing your own retail mobile app development team is expensive and time-consuming. If you want an app for your business but don't know where to start, or want to create the very best product without the expense of an in-house team, try app development outsourcing and reach out to an IT agency like Zoftify. We're here to help! We'll nurture your project from idea to app stores — our team of experienced developers has been building apps on React Native for years. And you don't have to be involved in micromanagement — relax and leave the complicated stuff to us.
Have an app idea? Want an app for your retail company? We'd love to get stuck in — just send us a message.
FAQ
What is the future mobile retail?
By 2025, mobile retail apps will account for almost half of ecommerce sales. This sector keeps growing and more people will make purchases on mobile devices, whether it will be clothes, various devices, or food. If you're interested in how the latter works, check out our article on grocery delivery application development.
Are retail websites better than apps?
Retail websites are more cost-efficient than apps, and the maintenance is easier. But mobile apps offer more opportunities for perfecting customer experience, creative promotion strategies, and monetization.
Why do I need a retail app for my business?
Retail apps offer that extra something for customers — they can enjoy interactive features, seamless payments, offline browsing, and more. And for you, retail apps mean more customer insight and branding opportunities — even your app's icon on the home screen can act as a mini-advertisement.
Sign up for insights, ideas, and inspirations
Like what you are reading?
You can receive our content directly to your email.
Zoftify Eesti OÜ
14804535
VAT: EE102329906
Estonia (HQ)
Lõõtsa tn 5-11
11415 Tallinn, Estonia
Latvia
Roberta Hirša iela 1
LV-1045, Riga, Latvia