On-demand grocery delivery application development: 4 essential steps
Since the COVID-19 pandemic, the demand for delivery services has increased — including on-demand grocery delivery. Although this market is competitive, there's still some room for your business.
In this article, we'll talk about on-demand grocery delivery app development — what the growth potential is, what to consider, and how to build a grocery delivery app for your business.
Food delivery: the market state
The COVID-19 pandemic increased the demand for delivery services — especially for food, since restaraunts closed due to lockdown measures. The yearly revenue of this market segment in the US grew to $31 billion from 2019 to 2020. And the food delivery market keeps growing. In 2021, we saw the total revenue of $57 billion, compared to $44 billion during the first year of the pandemic. Statista suggests that this trend will continue — take a look at this graph with projected food delivery market size.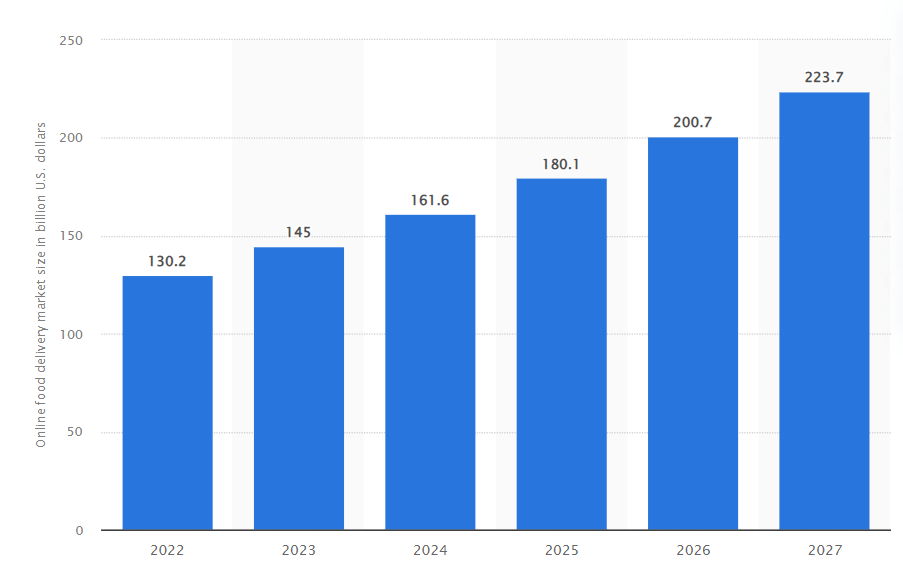 But this data excludes grocery delivery services — what about this market segment? McKinsey noticed growth in the online grocery delivery market related to the pandemic, but their survey of European customers suggested that the upward trend is likely to continue well beyond this. According to their data, net intent stayed almost the same or increased in some countries like:
United Kingdom — by 5%
The Netherlands — by 4%
France — by 2%
We can see growth tendencies in the US as well. According to Technavio, the expected annual customer growth rate within this market segment in the States will reach 25% by 2025. This means that, whether you're targeting Europe or America, the on-demand grocery delivery market is on the rise — and you have bright revenue prospects.
Types of grocery delivery apps
Grocery delivery apps vary in their features and monetization models. Generally, they can be separated into two main groups: single-brand and aggregators. Let's go into more detail.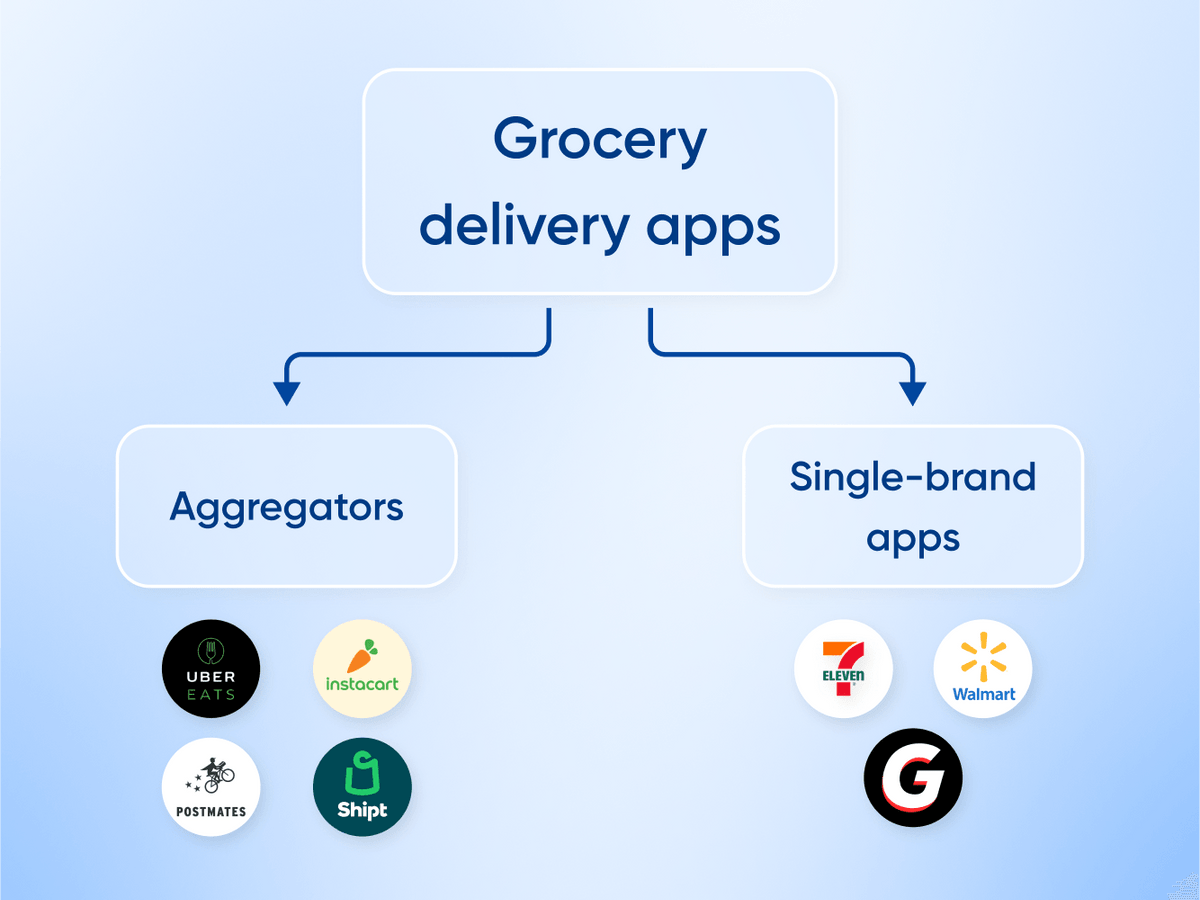 Aggregators
Aggregators play an intermediary role between shops and customers. They form partnerships with multiple vendors who use the app as their virtual "show-window". Aggregator apps collect and deliver orders. They also provide customer support to resolve issues like delivery delays. Such services may or may not use their own warehouses to store groceries. The aggregator business model is very popular — let's take a look at some prominent examples.
Instacart: This on-demand grocery delivery application development company partners with major supermarket chains like Costco and KMart. Instacart collects shopping lists from customers and their own team of local shoppers fulfill these lists and deliver the groceries right to the customer's door. This app also allows scheduled food deliveries.
Uber Eats: Uber's subsiduary company offers on-demand grocery and prepared food delivery, which is typical for aggregators. With this grocery delivery app development, the company partners with both restauraunts and supermarkets — for example, in 2022 Uber Eats started their partnership with British retailer Tesco. By the way, if you're interested in how retail app development works, you should check our article.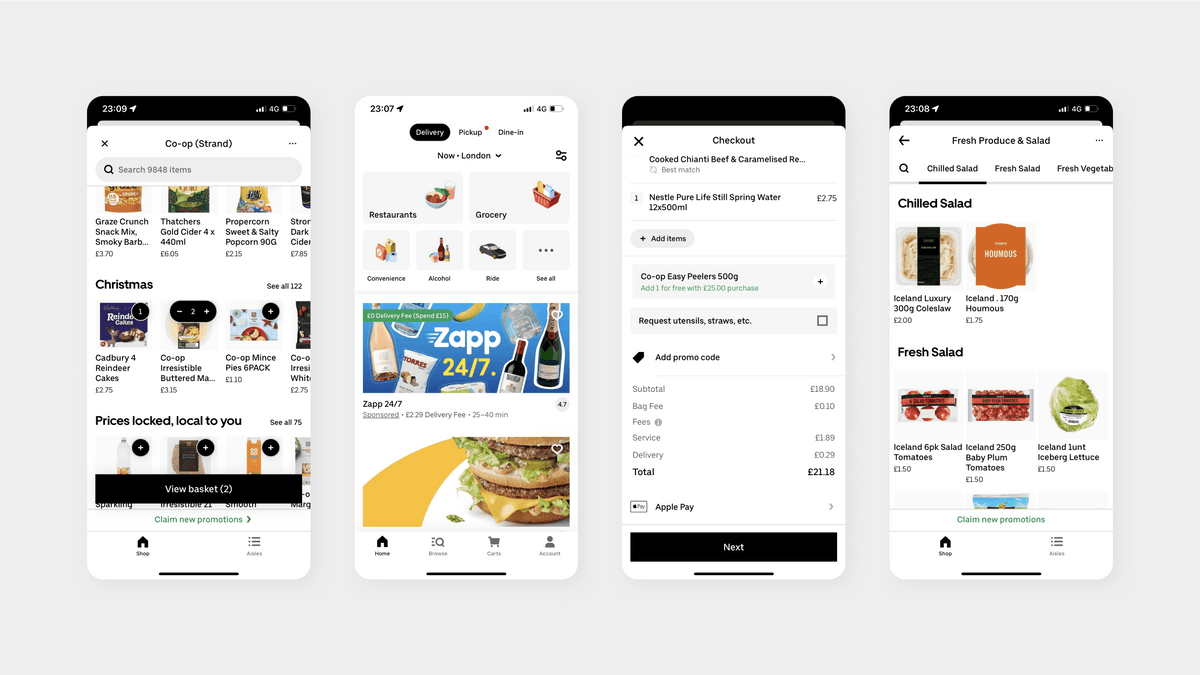 Possible monetization models for aggregators include:
Service fees — customers pay for delivery
Commissions — vendors pay a percentage of every sale via the aggregator
In-app ads — promoting certain items or brands in the app
Premium membership — for example, Uber Pass gives 5% off all Uber Eats orders for a monthly fee
Single-brand apps
Aggregators connect multiple customers to multiple vendors, while single-brand apps connect customers to one vendor. Both supermarket chain apps and single-store apps, with brick-and-mortar shops or not, and with or without their own production, fall under this category. Let's take a look at some examples.
Walmart: This American supermarket chain held the online grocery delivery market share of 47% in April 2021. Their app offers both delivery and store pick-up options, which is typical for supermarket apps.
Gorillas: Gorillas is an eco-friendly, on-demand grocery app development company that operates in several European countries. They source from local farmers, deliver purely by bikes, and avoid plastic packaging. Gorillas has several brick-and-mortar stores for shopping and pick-up. They also make and deliver food and drinks under their own brand.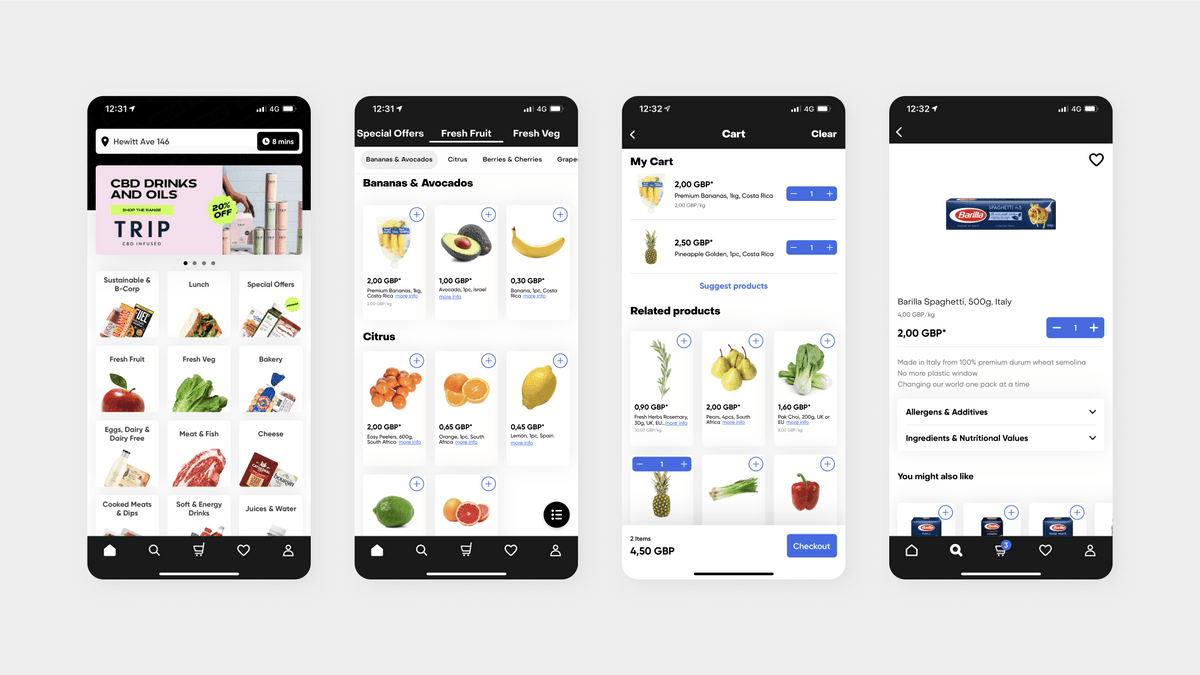 Monetization options for single-brand apps are similar to aggregators. These include:
Grocery sales — including the food produced by the company
A combination of service fees and subscriptions — for example, Walmart+ gives access to unlimited free deliveries, while users without premium accounts pay delivery fees
Commissions from suppliers
In-app ads
Premium membership
Go mobile to boost your business
Build a custom delivery app and skyrocket your sales and customer loyalty. Tell us about your business and we'll help you with design and development.
Benefits of grocery delivery apps for offline businesses
Competition in the grocery delivery app market is intense. Customers are bombarded with options, and the industry has a number of big players like Uber Eats and DoorDash. Should you create a grocery delivery app for your own business in this case? Why not join a big aggregator?
Partnering with an aggregator seems enticing — but building your own grocery delivery app has its benefits:
No commissions. Building your own app will ensure that you'll get all the money from each sale. For example, Uber Eats charges restaurants 30% for delivery and 15% for pick-up. Let's put that into perspective. Imagine that your store makes $300,000 a month off delivery sales. An aggregator takes 30% — you're left with $210,000 per month. If your sales are stable, you'll end up losing almost $1.1 million a year.
Control over customer service. If you have your own mobile app, you're in charge of everything from storage to the whole delivery process. But if you join an aggregator, you might face problems that are out of control such as:
Failed or delayed deliveries
Damaged deliveries
Inappropriate storage conditions — for example, customers might receive spoilt dairy products
Issues with selling groceries that are about to go bad — stock might go to waste
With your own app, you have complete control over the quality of your service and you can resolve or prevent these issues. It means that you also control your brand reputation.
Better branding. Mobile apps are a powerful branding instrument. UI design, illustrations, and all the content in the app will help you create a charismatic brand personality. As a reward, you'll get a loyal community of regular customers.
Extra monetization opportunities. If you join an aggregator, your only revenue source will be grocery sales. But with your own app, you can make money off the app itself. You could implement a premium membership that opens access to exclusive discounts and more app features — or partner with local businesses and promote them via in-app ads.
Prospects in niche markets. What if your business operates in a very small European town or in a country without major grocery delivery aggregators? With your own delivery service app, you can cover these niche markets.
Long story short, your own delivery app will help you increase customer loyalty and revenue. Now let's take a look at the grocery delivery app development process.
Building a grocery delivery app: 4 steps
Once you have decided that your business needs a grocery delivery app, there are two options for you. The first one is hiring your own mobile app development team, but we suggest a better option — outsourcing this job to an IT agency. Here's why: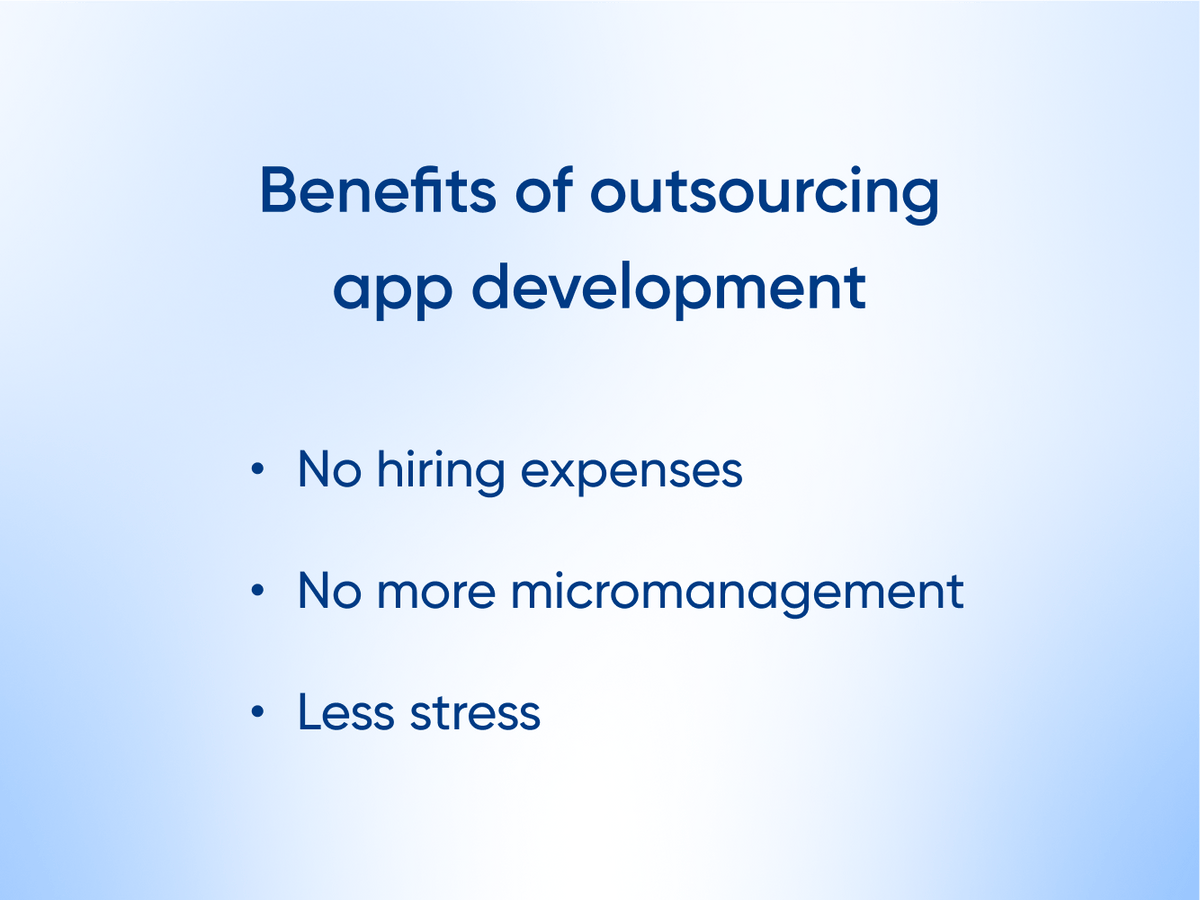 No hiring expenses. On average, hiring one person may cost up to $4000 and it can take up to 42 days to fill just one position. Now imagine that you need at least one UX/UI designer, two developers, one PM, and one QA specialist. If you outsource app development, you skip this stage and jump straight to working on your project.
No more micromanagement. Hiring a good team is not enough — you need to plan and organize their work. Implementing instruments like Jira, developing rules and protocols, and establishing workplace processes takes time. Outsourcing ensures that you'll get the experienced team and their processes already work like a clock.
Less stress. If you take grocery ordering delivery app development in your own hands, you'll have to take on extra responsibility and commitment yourself. And it won't end once the app is built — after releasing the app, you'll be involved in maintenance and market research. But if you outsource this job to a mobile app development company, you can leave the hardest parts to experts and keep working on your business — an agency will do everything for you.
Whether you choose outsourcing or hiring your own team, your future app will go through four stages of development. Let's take a closer look — here's our guide on how to make a grocery delivery app.
Keep calm and go mobile
Hiring and managing an in-house development team is a handful. Save this job for experts and focus on your real mission. Outsource app development to Zoftify — and go mobile with no stress.
Product discovery
Mobile app development starts with product discovery — it's the process of refining the app concept and defining its:
Unique value proposition and the pain points it will resolve
Market niche and the most important user group we'll focus on during design
Key competitors and how the app will stand out on the market
We've mentioned that the on-demand grocery delivery app market is very competitive — that's why the best strategy for such apps right now is to focus on certain user groups. Here are some ideas:
Location. This is especially important for local businesses — for example, small supermarket chains with 10 stores tops, all of which are located in one small town.
Specific user needs. You can target small user groups like:
People with medical conditions like diabetes — your app can include sorting groceries by medical diets
Amateur cooks who are always looking for new recipes to try — in this case add a cookbook to the app and allow users to search for recipes and buy groceries according to them
Restaurant owners — you can adapt your app for shopping in bulk for food-related businesses
People with mental disorders like ADHD or depression — these conditions can make simple tasks like cooking more difficult, so you can introduce grocery bundles to ease the decision-making process
The market is oversaturated — but there are still many micro-niche opportunities. Get creative and you will find your customers, even in the age of Uber Eats.
UX/UI design
UX and UI are sometimes used interchangeably — but there's a difference. UX design is about the app's logic and structure. It answers questions like:
Which features should we add to this app?
What are the app's use cases? How can the app accomodate them?
What algorithm will get users where they want? What will user flows look like?
Here's the thing. Your first launch will be an MVP. It stands for Minimum Viable Product — it's the version of your app that performs its main function and is good enough to use. It allows you to release something quickly and test your hypotheses about user behavior. After research and analysis you can tweak the app for better market performance and user satisfaction — and release the final version. But why is this important for UX?
During MVP design, you have to be selective with your features. For example, if you make an on-demand grocery delivery app, you can't skip the Apple Pay/Google Pay integration. But the in-app shopping list feature, unless it has a unique logic and is your main selling point, is optional. Users will get angry if they can't go cashless — but they'll be fine with using the default notes app for their shopping lists.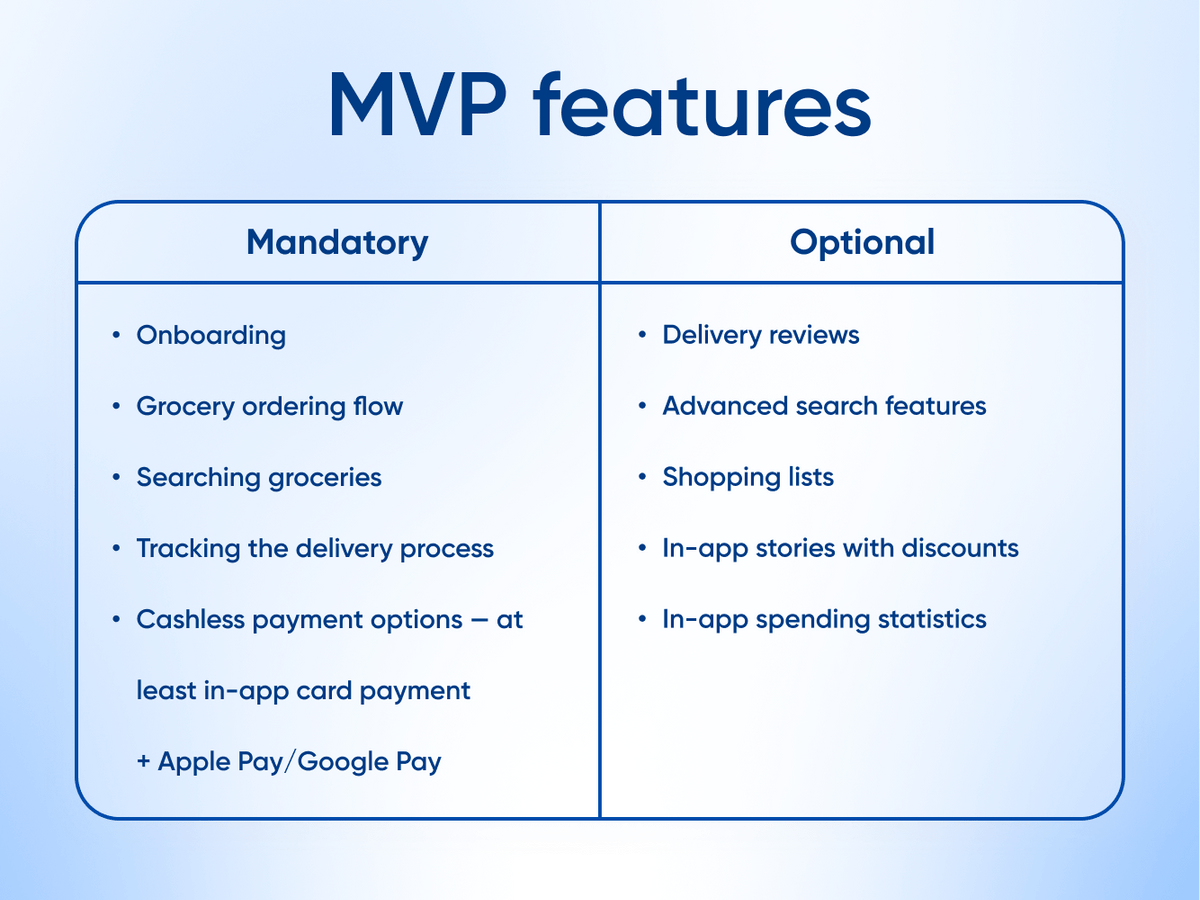 But what about UI design? The graphic interface design process for grocery delivery app MVPs is not that different from any other app — and not that different from working on the final release. But although drawing graphic interfaces might seem secondary to UX, a sleek UI is important for good user experience. That's why even if you're working on an MVP, you should pay attention to how the app looks and whether it's comfortable for users to interact with.
Development
An on-demand grocery delivery app actually consists of three apps — and all of them should be developed at the MVP stage:
An app for customers — for ordering groceries
An app for couriers — to pick up orders
A dashboard — for managing orders and all the in-app content like grocery catalogs
Since all delivery apps are similar in architecture, there are many white label solutions available. These are production-ready ecosystems for the three aforementioned apps — all you have to do is customize the design, the logo, and the content. But opting for white label apps is a bad decision in the long run. The problem with such solutions is that you're entirely dependent on the ecosystem — if something happens to the platform, your app will die. If you want your own app that will be in operation for years, grow, and bring you extra revenue, custom grocery delivery app development is a better option. This doesn't mean you have to spend a fortune — it is perfectly possible to build a quality app from scratch on a budget.
How can you develop your own grocery delivery app? There are three possible approaches:
Native development — separate codebases for iOS and Android using platform-specific languages like Swift or Kotlin
Cross-platform development — using frameworks like React Native to work on both iOS and Android codebases simultaneously
Hybrid development — a website that is rendered as an app via WebViews
Native grocery delivery mobile app development is the most expensive option and it takes the longest to code — it's overkill for delivery apps. Although hybrid development frameworks allow you to build apps quickly, they don't provide the native-like user experience and their performance is poorer than other options. Major players in the foodtech industry know that. UberEats, Bolt Food, Walt, all Walmart apps, and even Delivery.com opted for React Native, which is a cross-platform framework. It's the best choice for building a grocery delivery app because:
You save money — you don't need to hire or outsource to two separate teams to create versions for Android and iOS
You save time — developers work on a single codebase instead of two codebases for each version, so you'll get a production-ready MVP in just 3 months
Our experts at Zoftify have been working with React Native for years — in just 3 months we'll build you an app that is stable, well-tested, and has a native feel to it.
MVP release
Your app is now production-ready — but it's not the final product. Releasing an MVP has its own intricacies. There are two strategies:
Soft launch. This means that your app is available to a limited group of users — your early adopters. The key principles of a soft launch are:
Listening to users and collecting their feedback
Testing monetization options — which model works the best and how willing users are to pay for what you're offering
A soft launch reduces financial risks in the early stages — you can test ideas before showing up in the larger market and possibly failing.
Hard launch. This means jumping straight into the big market. It's not recommended for MVPs that are production-ready but still need further testing and polishing.
Which launch option is the best for your app? If you're aiming at a large audience, start with a soft launch and test out your ideas. However, if you're working for a regional micro-niche market, testing the app on a small user group might be excessive.
It's not rocket science
We can't launch a rocket but we can launch your MVP. Make your app idea come to life — tell us what you're after to start the journey.
Zoftify's experience: Ashley's eco-friendly groceries
Ashley owns 7 grocery stores in Jerez, Spain. Her company contacts local farmers to source the freshest, high-quality produce. They also make their own artisanal cheese in small batches. Ashley's business has always been small but thriving — until 2020. With lockdown measures, her sales dropped, and she didn't even have enough money to pay her workers.
Ashley was aware of food delivery aggregators like UberEats, Glovo, and Just Eat, but she didn't want to sell groceries through them for many reasons:
The commissions are too big
Some of Ashley's employees lost their jobs due to the pandemic, and she wanted to rehire them as delivery people
Ashley wanted to make sure that all the groceries remade fresh, not damaged, and delivered on time
Ashley happened to have an opportunity to rent delivery trucks — she could even put branded stickers on them
That's why Ashley contacted Zoftify and asked us for an on-demand grocery delivery app solution. We started working on the MVP design right away, and then used mobile application prototyping to help visualize the future product. This is what our first prototype looked like: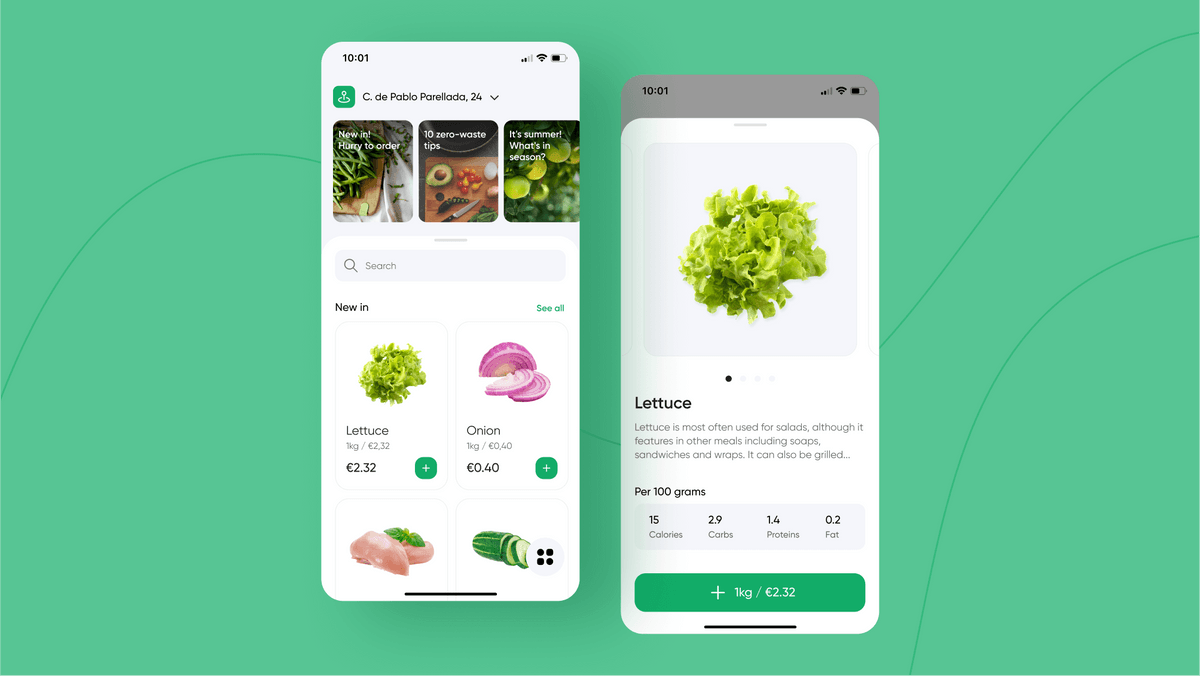 Ashley's business is built on eco-friendliness and sustainability. She loved projects like Gorillas — and this app became our main source of inspiration. During product discovery, Ashley decided that she wanted an app with extra value. Our digital product development agency came up with a blog about sustainable lifestyles. It looked like this: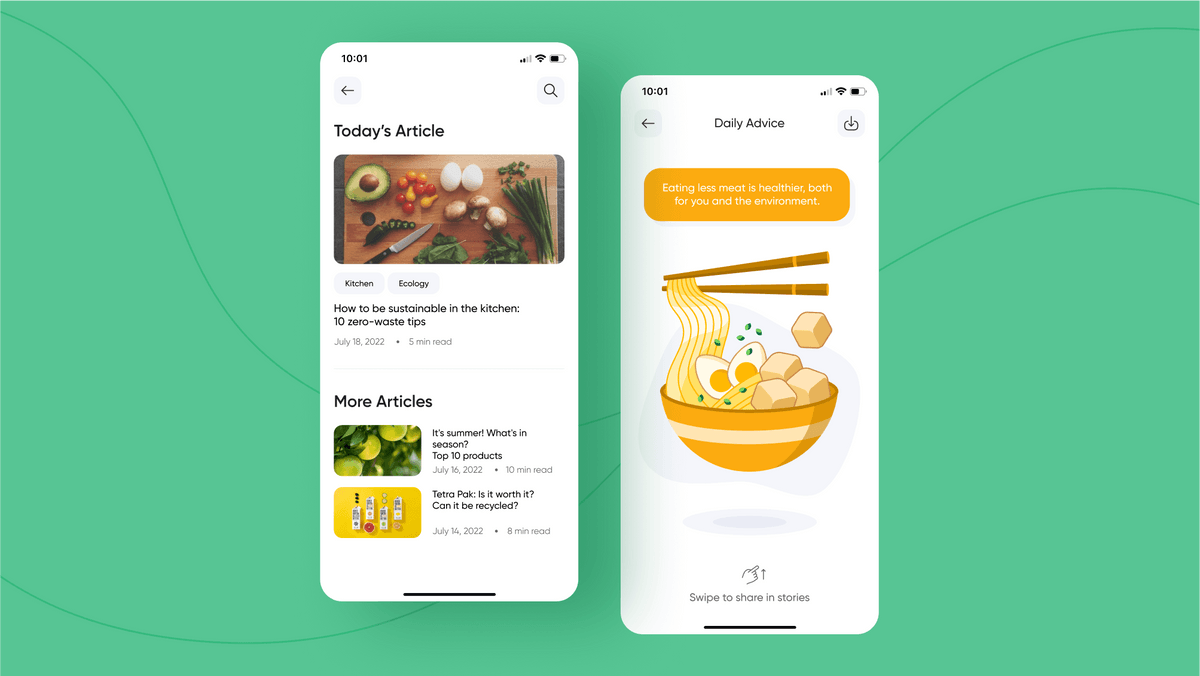 This blog became a part of our monetization model — a monthly premium unlocks more content and access to special discounts in stores. And since we started working on the app during the pandemic, we added cashless payment options and a contact-free delivery feature: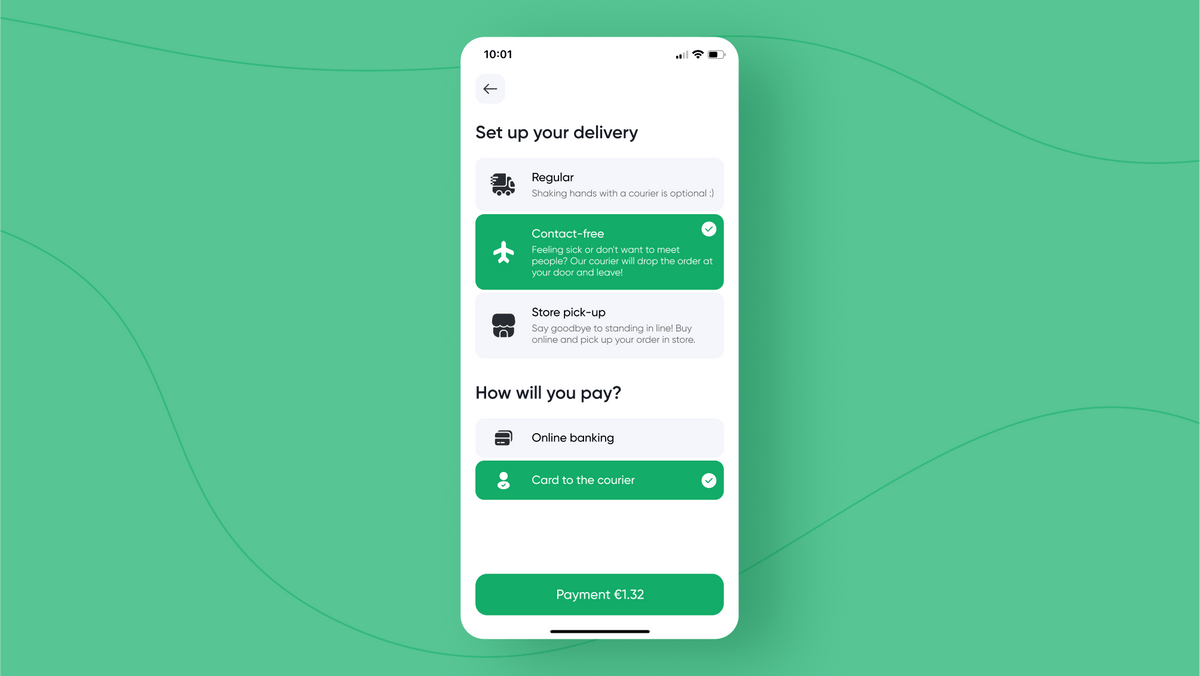 We ran our prototype through 3 feedback iterations — two with Ashley and one with a focus group. Since Ashley's business targets the Spanish market, our focus group consisted of native Spanish speakers. Despite the language barrier, we managed to conduct our research with flying colors. After we finished the design, we started developing. Ashley wanted both iOS and Android versions — that's why we suggested React Native to build two apps at the same time. Aside from the main app, we also built an admin panel with a CMS system for managing orders and other app content, plus a courier app.
Ashley reached out to Zoftify in May — and by November, her app was launched. It's been almost two years and our app saved Ashley's sales, formed a loyal community around her business, and brought her extra money. Now Ashley has a team of content creators who write the blog content for premium users. In the end, her customership increased so much she was able to three more stores.
The name and the city in this story are fictional — but we based it on real events. The team at Zoftify have been designing and developing apps for years. We help people like Ashley by creating mobile apps that boost business, increase sales, and even become another revenue source. Even better, you don't have to be an expert in app development or spend your time on micromanaging. Leave app building to us — and keep doing your job while we're doing ours.
Wrapping up
Building your own on-demand grocery delivery app will help your business improve customer service and increase revenue. But hiring a development team and managing their workload is expensive and takes time. The solution is outsourcing development to an app development agency — you'll get your MVP in just 3 months with no worries. There are also multiple other reasons to outsource app development — check them all out.
Zoftify nurtures your projects from idea to app stores — and we know how to create a grocery delivery application that will benefit your business. Our team cares about user experience and makes apps that generate money and create happy customers. We're always down for long-term collaborations — the better your business is doing, the better the ours.
Have an app idea? Want to make an on-demand grocery delivery app for your company? We'll be happy to help — just fill in the form below.
FAQ
What are the different types of grocery delivery apps?
There are two types of on-demand grocery delivery apps — aggregators and single-brand apps. Aggregators like UberEats and Instacart partner with many vendors. Single-brand apps belong to one vendor, like the supermarket chain Walmart.
Why do I need a grocery delivery app for my business?
With your own delivery service, you don't pay aggregators' commission fees, can fully control the quality of your service, get another branding instrument, and an extra revenue source.
How can I build a grocery delivery app for my business?
You can hire your own team or outsource app development to an IT agency. We suggest the latter — outsourcing is cheaper, faster, more efficient, and less stressful.
Sign up for insights, ideas, and inspirations
Like what you are reading?
You can receive our content directly to your email.
Zoftify Eesti OÜ
14804535
VAT: EE102329906
Estonia (HQ)
Lõõtsa tn 5-11
11415 Tallinn, Estonia
Latvia
Roberta Hirša iela 1
LV-1045, Riga, Latvia